Russia and Belarus are holding fresh talks Friday to defuse a row over natural gas that threatens to halt imports to Belarus and disrupt energy supplies to the European Union beginning Monday, Jan 1.
With less than 100 hours to go before Belarus must agree to a more than doubling of gas prices or see supplies cut, both sides expressed guarded hope.
"We are as interested as the Russian side in a result," Andrei Zhukov, an aide to Belarus' energy minister, Alexander Ozerets, told AFP in Minsk.
'Grotesque blackmail'
Currently, Belarus pays Gazprom $46.68 (35 euros) per 1,000 cubic metres of gas. Gazprom originally demanded an increase to $200, which is closer to western European prices, unless Belarus agreed to sell 50 percent of its domestic pipeline operator Beltransgaz.
Gazprom has since reduced that demand to $105 per 1,000 cubic metres -- $75 per 1,000 cubic metres in cash payments, plus the equivalent of another $30 in shares of Beltransgaz.
Gazprom says it will end supplies to Belarus at early New Year's Day, if the ex-Soviet republic fails to agree to the price hike.
Belarus, which lies sandwiched between Russia and the European Union, threatens to retaliate by refusing to allow transit of Russian gas to Europe, potentially hitting supplies in Germany, Lithuania and Poland.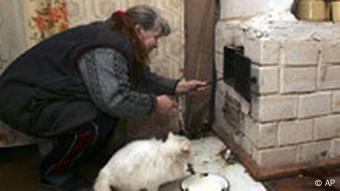 Belarusians are preparing for the gas cut-off
Gazprom vice-president Alexander Medvedev told France's Le Figaro on Friday that Belarus was engaging in "grotesque blackmail" and that European clients could face shortfalls.
Meetings in Moscow and negotiations by telephone have taken place daily, ending each time without sign of a deal, raising the likelihood of a New Year's crisis similar to the cut-off of Russian gas 12 months ago to Ukraine, with knock-on effects through western Europe.
The cuts, during an exceptionally cold winter, exposed a lack of any real European Union energy policy and awakened the bloc to the political power of natural resources.
Damaging Moscow's image
Gazprom insists that its price increases -- already imposed on Ukraine, Georgia, and Moldova -- are part of a legitimate move to end Soviet-era subsidies and charge accepted international rates.
However the Kremlin-connected gas giant's rough tactics against Russia's smaller neighbours has damaged Moscow's image abroad and caused alarm in Europe about what the European Union sees as over-reliance on Russian energy supplies.
The EU Commission says it is following the situation "very closely" and has called for a rapid settlement.
"I call on the two parties to reach as soon as possible a satisfactory agreement that does not put in question gas transits to the EU," said EU Energy Commissioner Andris Piebalgs. "The Commission is following the situation very closely since it may affect gas supplies to the European Union."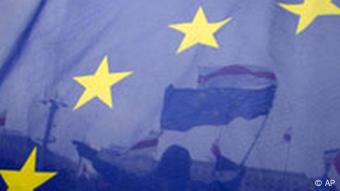 The EU is concerned about its energy dependence
Piebalgs also said that the EU's gas coordination group, which supervises the security of natural gas supplies, would meet in Brussels to discuss the problem on January 4. The commission will also unveil its strategic energy review on January 10 aimed at providing a vision for the EU's policies and a step-by-step map on how to achieve it.
The bloc also wants to start negotiating a new partnership agreement with Russia, more politically assertive recently under President Vladimir Putin, and make energy a central plank of it.
"Our energy needs may well limit our ability to push wider foreign policy objectives, not least in the area of conflict resolution, human rights and good governance," EU foreign policy chief Javier Solana warned. "We may have to deal increasingly with governments whose interests are different from our own and who do not necessarily share our values."
Playing down fears
Russia supplied 24 percent of the EU's total gas needs in 2005, according to data from European gas federation Eurogas, representing 40 percent of all gas imports to the bloc. Belarus serves as the transit point for roughly 20 percent of Russian gas flowing to Europe, amounting to about five percent of Europe's total gas needs. The other 80 percent of westward Russian exports are piped via Ukraine, which has offered to increase the transit of Russian gas.
That is why German Economy Minister Michael Glos, whose country takes over the EU presidency on Monday, played down fears of a growing crisis.
"There is no reason to fear a threat to supply security in Germany thanks to existing storage capacity and the small amount of the supply actually sent via Belarusian gas pipelines," he said.