Russia has agreed to contract a French-led consortium for the construction of two warships, the Russian and French governments announced on Friday.
French shipyard companies DCNS and STX would build the two Mistral-class warships along with Russia's state-run United Shipbuilding Corporation, known as OSK.
While the price was not disclosed, estimates put the price of one Mistral warship at between 400 million and 500 million euros ($525 million and $655 million).
The deal would be the first sale of military technology to Russia from any NATO member state. The United States and other NATO counties had expressed concern about transferring modern Western weaponry to Russia for fear of it being used against NATO allies, especially since Russia's brief war with Georgia in 2008.
Outdated weaponry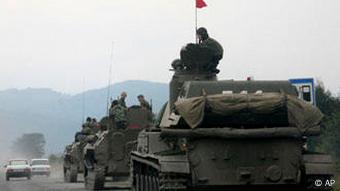 Russia's war with Georgia outraged NATO countries
Russia has been in discussions with France on buying the Mistral technology for more than a year. Much of Russia's armed forces are burdened with Soviet-era technology, and military leaders are keen to modernize it.
One Mistral-class ship includes a 69-bed hospital and can carry up to 16 helicopters, four landing craft and a 750-strong landing force.
The office of French President Nicolas Sarkozy said the contract would create 1,000 jobs in French shipyards over four years, and that the deal leaves open the construction of two more ships at a later date.
Russian Prime Minister Vladimir Putin had previously said that the price of the warships and the possibility to build more on Russian soil would be key criteria in Moscow's decision.
Author: Andrew Bowen (AFP, Reuters, dpa)
Editor: Chuck Penfold