The parliamentary commissioner for the armed forces, Reinhold Robbe, on Wednesday called on the German government to recognize it was fighting a war in Afghanistan.
"It is still being publicly denied that the German army is fighting a war in the HinduKush," Robbe told German state broadcaster ARD on Wednesday. "We have to stop avoiding the facts. We have to call the situation what it is."
The role of the German armed forces in Afghanistan has been the subject of tensions for two years, with the German government so far insisting their troops are not involved in war, but that they are there for peacekeeping and development purposes.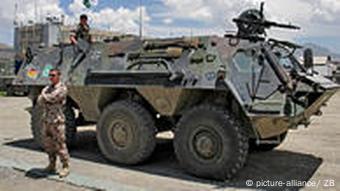 The latest attack has sparked a heated debate on the nature of Germany's mission in Afghanistan
On Wednesday, defence ministry spokesman Thomas Raabe, reacted to suggestions that German soldiers were conducting a war with a caution.
"Before we are so keen to call the situation a war," he said, "we should remember that we are not fighting an opponent but terrorists and criminals. If a war is declared in Afghanistan, we raise these groups into a legal framework that they do not deserve."
The debate has been reignited following an attack on a patrol in Afghanistan's northern Kundus region that left three German soldiers dead and a further four needing psychological treatment.
Increased Taliban attacks in northern Afghanistan
The men, between 21 and 23 years old, came under fire while on patrol. Their armored personnel carrier was forced into a water-filled ditch and turned on its roof. Three of the seven men in the carrier were unable to escape as rescue efforts were hampered by continuous Taliban fire.
Around 700 German troops are based in the Kundus region in the north of Afghanistan, a region previously considered relatively safe.
Taliban fighters have become increasingly active in a region around Kundus known as Char Dara, where Tuesday's attack took place. In June alone there were 30 Taliban attacks on German soldiers, putting the soldiers under daily fire.
Robbe: soldiers' jobs being 'trivialized'
On Wednesday, Robbe said Germany continued to supress what he said was the fact that its soldiers were at war in Afghnanistan.
"Everybody who tries to avoid calling the war what it is, trivializes what the soldiers are going through there," Robbe said. His comments came after a troop visit to Afghanistan.
"I cannot comment on what individual cabinet ministers are saying," Robbe said, "but when soldiers tell me that they are not building wells but that they are in a war situation, then I take it from them."
Robbe's comments have been echoed by the head of the German military chaplaincy, Bishop Martin Dutzmann.
"The troops are facing an asymmetrical threat. The defence minsitry is correct to shy away from a war in the legal sense of the word," Dutzmann said.
Germany has the third-largest contingent in the NATO-led force in Afghanistan, with about 3,380 troops.
Despite US pressure to contribute troops to the more restive southern provinces where members of NATO and US soldiers have been fighting the Taliban since the 2001 invasion that ousted the group from power, the German army has focused on the Regional Command North.
Jung: Soldiers will respond
Speaking on German radio on Wednesday morning, German Defense Minister Franz-Josef Jung said that soldiers would respond in kind if they were attacked but again stopped short of saying that German troops were fighting in the war on the Taliban.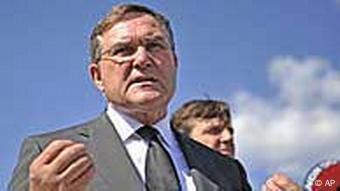 German Defense Minister Franz-Josef Jung has insisted Germany is not fighting a war in Afghanistan
"If we were to speak of war, then we would only be concentrating on the military aspect in the region, and that would be a mistake," Jung said, adding that the only way to win a war was to win the trust of the population.
"We have three functions to fulfill," Jung said, "to create security and to conciliate, protect and help. We are not occupiers, we are there to maintain security."
Germany vows to stay the course
Against a growing concern over the effectiveness of the NATO presence in Afghanistan, Deputy Foreign Minister Gernot Erler told the Neuen Presse newspaper that pulling German troops out now would not send the right signal, and that decisions on troop engagements should not be decided on an ad hoc basis.
"The operation is correct. And we are in close dialogue with the Americans, to talk about how we can become even more effective," Erler said.
Author: Tanya Wood
Editor: Jennifer Abramsohn