The gold is Jung's third in the Olympics after he won the team and individual honors at London in 2012. Phillip Dutton, of the USA, claimed bronze behind Nicolas.
In the end Jung's win was fairly comfortable. He finished with 40.90 points, Nicolas trailled some way behind with 48.00 and Dutton recorded 51.80.
As in London, Jung - widely considered the best eventing rider ever - rode to victory on a horse named Sam. The German rider only turned to Sam, a 16-year-old German Sport Horse, a week before the animals were due to fly to Rio. His first and younger choice, Takinou, had suffered an infection.
"Sam jumped fantastically and he gave me a great feeling. You can't describe this feeling. I am overjoyed at my horse, my team," Jung told ZDF television.
"This is something very , very special, and you can only be grateful to experience that," he added.
Jung picked up no penalties in the cross-country phase or the first jump on Tuesday and had another perfect round to become only the third rider in Olympic history to win back-to-back individual gold medals.
He is also the only rider to have finished on his dressage score in the Olympics, having already achieved that feat in London four years ago.
Germany off the mark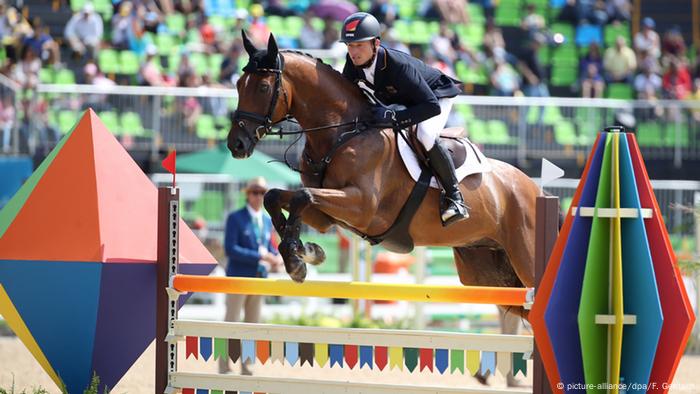 Jung also won silver in the team event earlier on Tuesday
Earlier on Tuesday, Jung, Sandra Auffarth, Opgun Louvo and Ingrid Klimke claimed team silver - and Germany's first medal of the Games - finishing with 172.80 points, just behind the French team on 169.
Jung (pictured top), won double gold in London 2012. He said this year's team had worked hard, adding that their success would be life-changing.
"We knew we were close," he said after the results were finalized. "The motto was to keep fighting (and achieve) all clear rides. After each round, we were more motivated. I was nervous but we fought and are pleased with the silver medal."
Australia could have snatched glory in the last round but their rider Chris Burton clipped an obstacle, leading to extensive celebrations for France and Germany.
mp/ac (AP)