The exhibition, called "The Naked and the Nude," showcases around 250 works by celebrated Indian artists.
It includes artworks by a range of masters of Indian modern art and many artists known for their exploration and celebration of the body, including M.F. Husain, one of the country's most controversial painters.
But within a day of its grand opening, protests led by the Durga Vahini, the female wing of the Vishwa Hindu Parishad (VHP), a right-wing Hindu grouping, objected to the "indecent pictures," complaining they showed women as a commodity.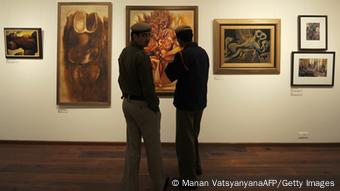 The exhibition will go on with police protection if necessary
"Nudity will not be tolerated in art in view of the recent incidents of gender atrocities and rape. It goes against Indian moral sensibility," VHP state convener Sanjana Chaudhary told DW.
'Show must go on'
Despite facing threats, artists have vowed that the exhibition should run as planned in defense of freedom of expression. Gallery owner Ashish Anand said the exhibition explored a popular thematic concept in art and would continue as planned until March 15, with police protection if necessary.
"We believe in everyone's right to debate, discussion and even protest, provided it is non-abusive, non-violent and non-threatening," Anand told DW. "Whatever Husain has painted is the depiction of a human body. There are no gods and goddesses and no vulgarity so there is no reason why we should be removing Husain's paintings from the exhibition."
The renowned Husain, who died two years back, was banished from India and forced to live in exile after accepting a Qatari citizenship. He enraged Indian Hindu groups like the Bajrang Dal, Shiv Sena and VHP because of his depiction of nude Hindu deities in sexual union.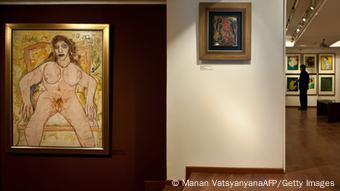 The VHP feel that nudity should not be tolerated, being an affront to Indian morality
In recent weeks, writers, academics, actors and artists have come under attack from India's political class and fringe parties for criticizing the established order. Several intellectuals and writers feel that freedom within the artistic community is shrinking.
Laissez-faire censorship
Ritu Menon, a publisher and writer who has been active in the South Asian women's movement for over 20 years, explained to DW.

"What we are witnessing is the prevalence of what we call 'street censorship' or 'laissez-faire censorship'…which is to say no one can be held responsible. The mob forms and dissolves so no one can actually be criminalized," Menon said, adding that the state is abandoning its responsibilities.
"The more regressive the state, the more aggressive the mob. The state is simply withdrawing from the public sphere," she adds.
Makarand Paranjape, a poet and English professor at Delhi's Jawaharlal Nehru University also points to a failure of governance.
"It seems to me the state, which is the guarantor of rights which are enshrined in the constitution, is extremely amenable to pressure groups," he said.