Reuven Rivlin is a friendly but persistent person - one who doesn't surrender to setbacks. In 2007, he withdrew his candidacy for Israeli presidency when it became clear that Shimon Peres had enough support in Israel's parliament, the Knesset, to win in a run-off. But this defeat did not prevent the 74-year-old from making another attempt in 2014. And this time it has worked out: in June, the Knesset elected Rivlin as the successor of Shimon Peres.
Rivlin, a married father or four, is forgoing the typical inauguration celebrations on taking office this Thursday (24.07.2014). Israel is at war and soldiers as well as civilians are losing their lives.
"While IDF [Israel Defense Forces] soldiers are fighting and citizens of Israel are under threat from rockets, we think the ceremony should take place in a more modest and limited format," said Knesset speaker Yuli Edelstein in a statement. "We support the IDF in its mission to bring quiet and calm to all residents of Israel, as soon as possible."
In favor of Israeli settlements
Rivlin, nicknamed "Rubi," is known as a political hardliner. "He fully supports the politics of Prime Minister Benjamin Netanyahu," said Israeli historian Moshe Zimmermann from the Hebrew University of Jerusalem. He added that Rivlin would not pursue a peaceful solution to the current conflict, coming from Netanyahu's right-wing Likud party.
Rivlin is a staunch backer of Jewish settlements in the West Bank
However, unlike Netanyahu, Rivlin opposes the creation of a Palestinian state. He has openly propagated his vision of a greater Israel encompassing the West Bank and the Gaza Strip. In 2010, Rivlin said he would prefer to make more Palestinians citizens of Israel than divide Israel from the West Bank.
According to Ari Schavit from Israel's "Haaretz" newspaper, Rivlin will use his time in office to continue the creation of Israeli settlements in the West Bank.
Protecting democracy
Despite his right-wing and pro-settlement stance, Rivlin enjoys good relations with Arab and left-wing members of the Knesset. This is largely due to his active support of the democratic rights of minorities during his time as speaker of the Knesset (2003-2006 and 2009-2013).
One example of this was the confrontation with Hanin Zoabi, a Palestinian Arab member of the Knesset who was involved in the Gaza Freedom Flotilla, which aimed to break the Israeli blockade of the Gaza Strip in 2010. She was on board the MV Mavi Marmara where violence broke out between the crew and Israeli commandos, resulting in casualties. In response, a Knesset committee recommended that her parliamentary immunity be revoked, but Rivlin blocked the move.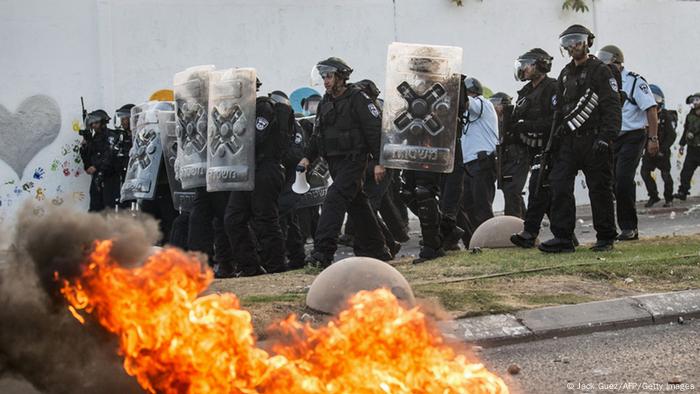 The coexistence between Israelis and Palestinians is fraught with resentment and violence
Rivlin, a former member of the military intelligence service, shows sympathy for Palestinians. In 2009 he stated that "the establishment of Israel was accompanied by much pain and suffering and a real trauma for the Palestinians" and called for a "true partnership" between Jews and Arabs. And, shortly before the current Gaza conflict broke out, he called for an end to the violence in an editorial prepared together with Peres for Israel's "Yedioth Ahronoth" newspaper.
"The bloodshed will stop only when we all understand that it is not our unhappy fate to live together, but rather our destiny to do so," Rivlin and Peres wrote.
Rivlin's proposed solution for the decades-old conflict is more rights for Palestinians, but within one federal state. According to historian Zimmermann, this is a way of "appeasing the Palestinians through equal treatment."
Focus on domestic politics
In Israel, it is the prime minister who holds real authority. The president's power is mostly limited to representative functions. His most important responsibilities are granting amnesty to prisoners and issuing the mandate for the formation of a new government following elections.
Rivlin's predecessor Peres also used his time in office to advocate peace with Palestine, but Rivlin has a more reserved approach in this matter. He has stated that, as president, he does not wish to interfere in the decisions made by political representatives.
According to Reuven Hazan, a political scientist at the Hebrew University of Jerusalem, Rivlin is likely to first and foremost respect the "ceremonial and symbolic function" of his presidency.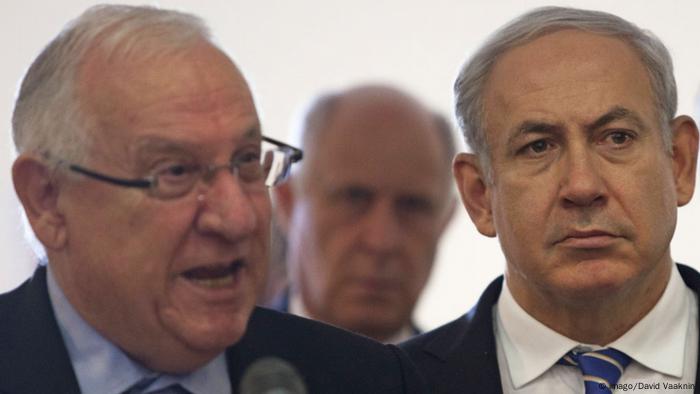 Rivlin and Netanyahu: a complicated relationship
"Peres was a foreign-policy-oriented president," said Hazan. "Reuven Rivlin will concentrate on Israel, and he will be a president for the people, the society, the Israelis - one who will hopefully build a bridge between Jewish and Arab Israelis."
But first, Rivlin needs to establish his relationship with Prime Minister Netanyahu, who only supported Rivlin in the final stages of his campaign and did so with reluctance. Despite being in the same party and having similar political goals, the two men bear a dislike for each other. Rivlin has accused Netanyahu in the past of not respecting the parliament and has denied him support in the Knesset on several occasions.
For Israel's caricaturists, Rivlin is for now a hard morsel that Netanyahu will have to swallow.