CEO Karl-Gerhard Eick said he would ask for a major loan to restructure its business. The company will focus on making its core business profitable again, Eick said Monday in a telephone conference.
The restructuring costs are in addition to 776 million euros in loans, which the company will need to renegotiate with banks by mid-June.
Besides Karstadt stores, the Essen-based company also owns mail-order firms Quelle and Primondo and travel firm Thomas Cook.
While Eick indicated that the company was rethinking its mail order business, he said there were no plans to part with Thomas Cook. Many analysts had predicted that Arcandor would sell off its 52 percent stake in Europe's second largest travel firm.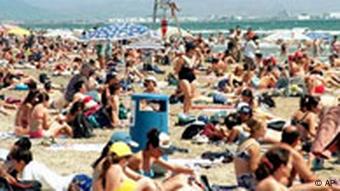 The travel business has been hit by the economic crisis
Thomas Cook said last month that its summer bookings were down 16 percent compared to last year, as worries about the economy have caused more people to stay home this year. Despite the financial crisis, Thomas Cook remains part of Arcandor's "core business," Eick said.
Considering its options
Just one month ago, Eick warned that the company's business units needed to improve or face the risk of being sold. The company lost 746 million euros ($972 million) in the past fiscal year, according to Reuters news agency.
The company is looking at numerous options for returning to profitability including strategic partnerships, management buyouts and closing down unprofitable units, Eick said.