The trucker's body had both stab and gunshot wounds, according to Ariel Zurawski, the victim's cousin and the owner of the transport company the murdered man was working for.
"His face was swollen and bloodied. It was really clear that he was fighting for his life," Zurawski told the Polish network TVN on Tuesday, after identifying the man based on the photos shown to him by the Berlin police.
Zurawski last spoke to his cousin around noon on Monday, some eight hours before his truck was used as the weapon in the Berlin terror strike. At the time, the 37-year-old Lukasz Urban said he was parked in an area inhabited mostly by Muslims.
"We made a few jokes, we laughed," Zurawski said in a statement to the Polish broadcaster TVP Info. Lukasz said he was going to a kebab shop for lunch and later sent his cousin a picture from the fast food place.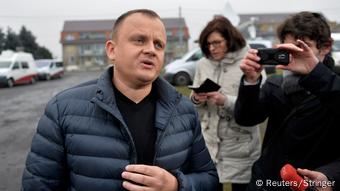 Ariel Zurawski told reporters that his cousin dropped out of contact some four hours before the attack
Truck movement indicates new driver
Around 3 p.m., Lukasz spoke to his wife. However, he did not pick up the phone when she called back an hour later.
The truck's GPS noted movement shortly before the unanswered call, Zurawski added.
"The car was started up, turned off, driven forward, then backward. As if someone was learning to drive it," he said. "I knew something was wrong."
After that point, the truck remained in place before heading to the Christmas market around 7:40 pm, where at least 12 people were killed.
Berlin police confirmed that Polish driver was not controlling the vehicle during the attack.
'Hard to imagine'
Another coworker, Lukasz Wasik, also said that the driver would be likely to resist if someone tried to hijack his truck.
"I believe he would not give up the vehicle and would defend it to the end if attacked," Wasik said in quotes carried by TVP, describing the driver as a "good, quiet and honest person."
Ariel Zurawski also told the media that his cousin was attacked "pretty much in downtown Berlin."
"It's hard for me to imagine that something like that can happen in broad daylight, on a street of the German capital," he said.
dj/rc (Reuters, AP, dpa, AFP)