"Wir schaffen das," or "We can do this" German Chancellor Angela Merkel said at the peak of the European refugee crisis in the fall of 2015.
It's a phrase the chancellor has held on to since those decisive months and repeated like a mantra. It's a phrase that advocates have praised and critics have abhorred - but it's also a phrase the chancellor may have doubted herself - even as she was saying it, according to a report published on Sunday.
A new report from the German newspaper "Welt am Sonntag" found that, contrary to prior information, Merkel and her grand coalition government planned to close the border with Austria and turn away asylum-seekers in mid-September 2015.
Government unified
The report is part of research for a forthcoming book and cites interviews with high-ranking officials involved in determining German policy at the time. On September 4, Merkel opened the borders for thousands of refugees who had been stuck in Hungary, saying it was necessary on humanitarian grounds.
However, on September 12, Merkel and her ministers agreed to send thousands of police to shut the southern border with Austria where refugees who had been traveling through the Balkan route were crossing into Germany.
On a conference call with Interior Minister Thomas de Maiziere (CDU), Bavarian state Premier Horst Seehofer (CSU), then-Foreign Minister Frank-Walter Steinmeier (SPD) and Economy Minister Sigmar Gabriel (SPD), an agreement was reached to shut the border the following evening.
They also all agreed to turn away asylum-seekers at the border.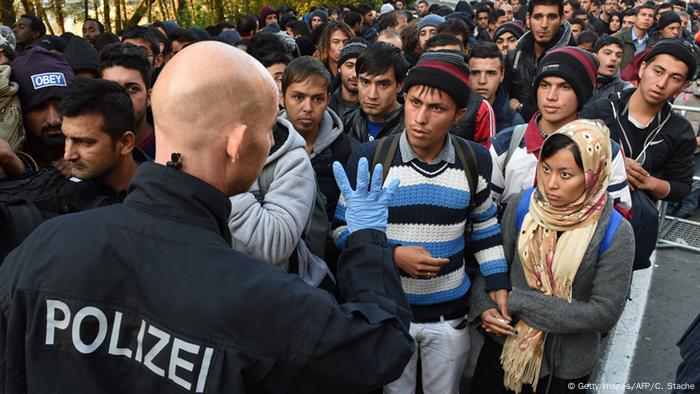 The government's plan would have turned away all migrants who didn't have the right documents, even those who wished to apply for asylum
Possibly illegal move
Indeed, in the original draft order to Germany's federal police force, the government instructed officers to reject migrants who did not have the required papers - "also in cases of asylum-seekers."
However, members of the Interior Ministry questioned the legality of the border closure and rejection of asylum-seekers on September 13. De Maiziere called Merkel to update her on the situation.
According to the report, Merkel did not make a decision but demanded assurances from de Maiziere that the border closure would hold up in court.
She also reportedly wanted to limit bad press that would have arisen from pictures of German authorities enforcing the border closure and their interactions with refugees.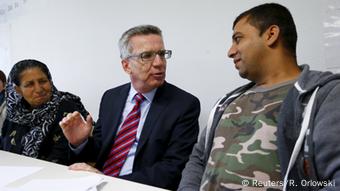 Interior Minister de Maiziere (center) reportedly couldn't guarantee that the government's plan was legal
Change of plan in final hour
Hours before the order was supposed to take effect, de Maiziere was unable to obtain guarantees that the border closure plan would be legal in the form government ministers agreed to.
So orders to police changed, now stating that "third-country nationals" who wished to apply for asylum in Germany were permitted to enter even without legally binding identity documents.
No leading German politician was willing to take responsibility for the possibly illegal decision at the end, "Welt am Sonntag" said it its report.
Germany's Interior Ministry said in a statement that it could "neither confirm nor deny" the report.
rs/sms (AP, KNA)