An A320 aircraft that disappeared last week over the Mediterranean Sea made an emergency landing in 2013 after one of its engines "overheated," according to a report by an organization affiliated to Egypt's civil aviation ministry.
David Learmount, editor of the aviation magazine Flightglobal, told AP news agency that "engine overheat is rare but it happens."
"An engine fire could cause a crash but has not done so in the modern aviation era," Learmount added.
EgyptAir flight MS804 lost contact with air traffic operators on Thursday after entering Egyptian airspace with 66 people on board, including 56 passengers, seven crew members and three security personnel.
The following day, an Egypt-led search and rescue operation "found personal belongings of passengers and parts of the wreckage 290 kilometers (180 miles) north of Alexandria," according to an Egyptian army spokesman.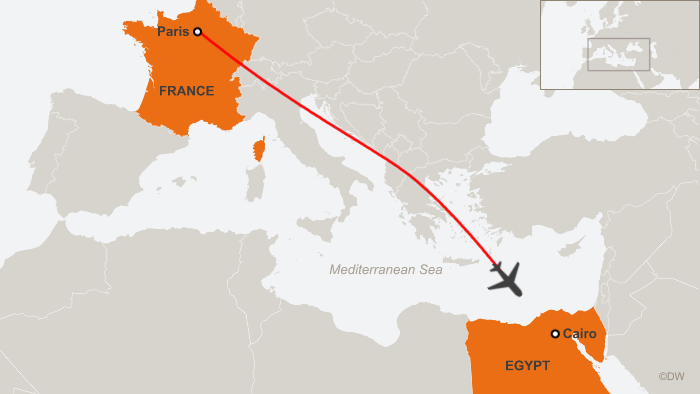 MS804 went down in the waters north of Egypt in the Mediterranean
French naval vessel joins search
Meanwhile, a French naval vessel on Monday arrived in the search area to aid international efforts at retrieving the aircraft's black boxes, according to France's navy.
The 80-meter (262-foot) vessel is specialized in maritime surveillance and rescue operations.
Waters in the search area - located roughly halfway between Alexandria in Egypt and the Greek island of Crete - go down as far as 10,000 feet (3,050 meters) deep.
Cause still unknown
Egyptian and French authorities have yet to rule out technical failure or terrorism as a cause for the flight's tragic crash in the Mediterranean Sea.
Egypt's Civil Aviation Minister Sherif Fathy on Thursday suggested that the aircraft's disappearance was more likely to have been caused by a terrorist attack.
"The situation may indicate that the likelihood of a terrorist work is far higher than the likelihood that the plane developed a technical failure," Fathy said.
Both Egypt and France have been hit by a wave of terrorist attacks in the past two years.
In October, a Russian passenger flight departing from the Red Sea resort town of Sharm el-Sheikh to St. Petersburg was downed over the Sinai Peninsula, killing all 224 people on board. The "Islamic State" militant group's Sinai affiliate claimed responsibility for the aviation tragedy.
However, no group has claimed to have brought down EgyptAir flight MS804 since it lost contact with air traffic controllers last week.
ls/bw (AP, Reuters)