German public broadcasters NDR and WDR, in collaboration with the "Süddeutsche Zeitung" newspaper, on Thursday published a report detailing a lawsuit filed against the federal government by arms maker Heckler & Koch.
"The weapons manufacturer Heckler & Koch sued the federal government," the report said.
The arms maker's lawsuit was directed against the Federal Office of Economics and Export Control's (BAFA) apparent decision to stop approving applications for the export of components for the G36 assault rifle.
In 2008, German Chancellor Angela Merkel's government approved of a controversial deal that allowed Saudi Arabia to produce the assault rifles in the kingdom.
Citing government sources, the report said Heckler & Koch are seeking tens of millions of euros in damages, adding that the lawsuit was filed at Frankfurt's Administrative Court.
However, BAFA, a subordinate office of Germany's Federal Ministry of Economic Affairs, ceased reviewing export license applications by the arms dealer after a decision was taken "at the political level."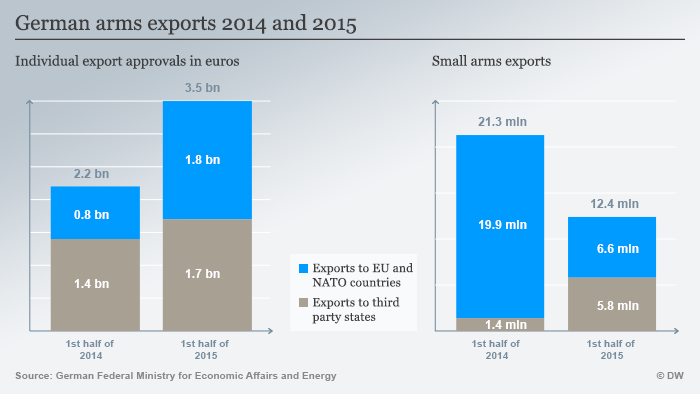 Heckler & Koch have been unable to deliver necessary components to Saudi Arabia for the manufacturing of the G36 assault rifle, the report said.
According to German law, a company can sue federal authorities when an application "has not been decided, [and] without sufficient reason, in an objectively reasonable time."
Germany's Economy Minister Sigmar Gabriel has been criticized for seeing small arms exports to non-EU and non-NATO countries triple under his watch.
In February, Germany reauthorized some weapons exports to Saudi Arabia, Kuwait and Egypt, countries which have been criticized for being human rights abusers.
ls/mm (NDR, WDR, SZ, Reuters)
Have something to say? Add your comments below.