The array of candles symbolized the start of four days of mourning at the site of the Duisburg Loveparade stampede. Twenty-one people were killed in an overcrowded tunnel that served as the main walkway towards the site of the techno music festival on July 24, 2010. As many as 500 people were injured in the panic.

The festival took place at the former freight railway yard in the city in Germany's Ruhr Valley, a venue that was ill-equipped to accommodate the around 1.4 million revelers.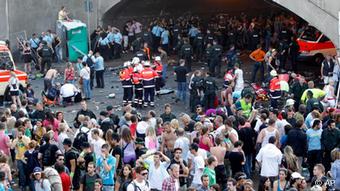 A crowded tunnel and walkway to the venue was the scene of the tragedy
Relatives and friends of the victims took part in the overnight ceremony, along with the city's new mayor, Sören Link. His predecessor, Adolf Sauerland, was voted out of office after the tragedy. Many people considered him at least partly responsible for the overcrowding.

At a memorial ceremony on Tuesday evening, the new mayor apologized to those affected on behalf of the city.

"It was a singular tragedy," Link told over a thousand people gathered at Duisburg's Opera Square. The first tragedy was followed by a second, he said: "the painfully long period of speechlessness in the city."

Duisburg plans to install a memorial at the scene of the disaster.
Official investigations into the catastrophe are ongoing. Prosecutors are investigating the cases of 17 people: 11 members of the Duisburg planning council, five employees with the Lopavent company that runs Loveparade, and one police officer.
The first ever Loveparade took place in West Berlin in 1989.
msh, ncy/kms (dapd, dpa, epd)