A new report published by the University of Oxford's Refugee Studies Centre (RSC) on Friday showcases examples of refugee-led creative self-help and innovation from around the world. Based on research conducted in Jordan, South Africa, Uganda, Kenya and the USA, the report shows how people practice "bottom-up innovation" in the most difficult of circumstances.
The researchers said their research has major implications for humanitarian aid agencies as they engage with a growing world-wide population of around 60 million refugees who have been displaced by war or natural disasters. Rather than relying on hand-outs, refugees should be supported in efforts to generate their own innovative solutions to their problems.
"This involves providing an enabling environment within which refugees have better access to the internet, microfinance, education, entrepreneurship training, and basic infrastructure," according to the researchers.
The refugee cycle
The RSC report's authors, Alexander Betts, Louise Bloom, and Nina Weaver, looked at a range of refugee situations from different stages of the "refugee cycle," in both urban and rural camp settings. The first stage of the cycle is a recent mass influx of displaced people to a new location; the second, prolonged stays in refugee camps that are meant to be temporary shelters; the final stage is resettlement.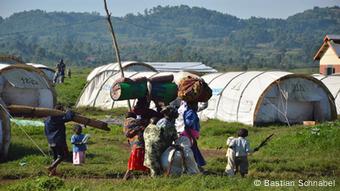 South Sudanese refugees at Nyakabande Transit Centre, Kisoro District, Uganda
"Examples from Uganda show how, in a country in which refugees have the right to work, there is a strong presence of innovative entrepreneurship," the report said. Refugee innovation can be contributary to both refugee and host communities.
Most refugees in Uganda came from the neighboring Democratic Republic of Congo (DRC), eastern regions of which have been embroiled in chaotic wars for decades. Other refugees in Uganda come from various conflict-plagued countries including South Sudan, Somalia, Rwanda, Burundi, Ethiopia and Eritrea.
One of the refugee settlements RSC researchers studied was Nakivale, in southwest Uganda, which has a population of 60,000 people. The researchers found a good number of refugee entrepreneurs who had succeeded in generating businesses and jobs. That wouldn't have been possible without supportive government policies.
"Uganda offers a relatively positive environment refugee innovation," the report said. Refugees are allowed the right to work and a relatively high level of freedom of movement, which means refugees to become entrepreneurs and to interact directly and constructively with the host economy.
Among the refugee entrepreneurs showcased in the report was Claude, a Rwandan refugee whose maize-milling business employed five other refugees and played an important role in the local food supply. When a new wave of Congolese refugees came to Nakivale, displaced by fresh fighting in 2013, Claude milled maize for the World Food Programme to meet increased demand.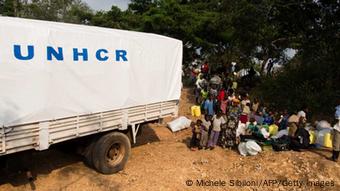 UNHCR aids refugees from Congo at a camp in Kamwenge district, western Uganda, March 2013
The Oxford report highlighted how Claude had had to pay bearers to continuously carry water from the nearby lake to cool his machines. Claude eventually solved his water supply problem by contracting a company in nearby Mbarara to build a ferrocement water tank, and using the roof of his milling plant to collect rainwater and drain it into the tank. He ended up with a sideline business selling drinking water to other refugees.
Elements of success
The report identified five key elements of a "positive enabling environment" for refugee self-help and innovation. The most important: A permissive environment with the right to work and freedom of movement.

Additional factors include access to the internet and telecommunications systems, access to education and skills training, good infrastructure and transportation links, access to banking and credit, and interaction with peers and supporters in transnational networks.
The Oxford researchers hope that humanitarian aid agencies "reconsider the humanitarian system as one that should recognise capacities" of refugee populations as well as their vulnerabilities - a resource to draw on, not merely a problem to manage.