The refugee camp Dosseye in southern Chad is gigantic: a town of tents and mud huts in the middle of nowhere. Berthe Ilo sits in the dust in front of her home which consists of a single, windowless room. The 48-year-old sleeps on the ground. All she owns is a couple of cooking pots and whatever else she could carry on her flight from her home country, the Central African Republic (CAR). But even here she is not safe. Three masked men attacked her in her hut. "They asked for money, then they took a cloth and stuffed it in my mouth so that I couldn't scream. They cut open my clothes and one of them raped me while the others kept watch outside." Berthe recounts her story in a tired voice. The men again demanded money and held a knife to her throat. "So I gave them what I had hidden in a small box next to my bed."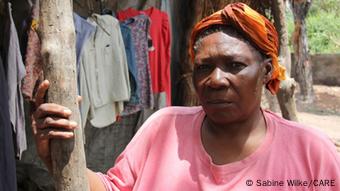 For Berthe Ilo the camp was not a secure place
Berthe Ilo has lost contact with her three children. They are somewhere in the border region between Chad and CAR. Last year alone 150,000 people fled to Chad. But the wretchedly poor country was not prepared for such an influx of refugees. There is some support from the German government for projects run by the aid organization CARE. But the future is far from secure and nobody is really safe.
Chad and CAR
President Idriss Deby has ruled Chad for over 24 years with an iron hand. His country is one of the least developed in the world – despite large oil reserves. Environmental problems are growing. A third of Chad's land mass lies in the Sahara Desert; Lake Chad, an important source of water, is drying up. Water shortages will soon be a major problem.
A quarter of the national budget is spent on securing the border region. There are good reasons for this, says Thomas Gurtner, who heads the UN mission in Chad. "After 40 years of internal conflict and bloodshed, Chad has only enjoyed peace since 2008. It achieved that despite being surrounded by war, hatred and genocide."
Gurtner is referring to the numerous crises and conflicts in neighboring countries. Refugees come from Sudan in the east and from Libya in the north. The long border with Niger to the west is regarded as impossible to keep under effective control – it is in the hands of smugglers and the terrorist group al Qaeda in the Maghreb (AQIM). In the southwest, thousands of Nigerians are fleeing from terror group Boko Haram who are also active in parts of Cameroon. And then there are the violent clashes between hostile militia groups in CAR.
It is in this last conflict that the role of Chad has been controversial, Gurtner says. "For some time Chad was thought to favor a division of CAR with a view to annexing the north." That scenario did not materialise and, according to Gurtner, "Chad is today striving to find long term solutions on the international diplomatic stage."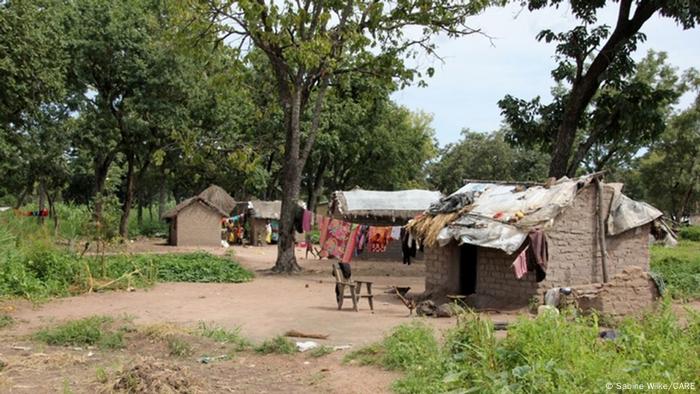 Small mud huts are home for many refugees in Dosseye camp
Uncertain future
Many of the refugees who make their way to Chad are not complete strangers to the country. Most refugees from CAR have Chadian roots, and are often referred to as "returnees." One of them is 17-year-old Awa Mamua. Her entire family was killed in the CAR capital Bangui. She came with a Chadian convoy to Danamadja camp where aid organization CARE is trying to help the refugees. "Before, everything was fine – when I had my father, my mother and my brothers and sisters. Now they are all gone – because of the war," she said.
Awa cooks in the camp for a group of young refugees, takes care of them and listens when they want to talk. She has no desire to return to CAR. Her life in Bangui has been destroyed, there is no one there for her. Awa wants to stay in Chad, finish her schooling and then train as a nurse.
Like other aid organizations, CARE will soon have to reduce or end a number of its projects in Chad, due to financial constraints. This will affect the refugee camps in Dosseye and Danamadja.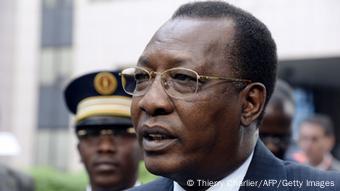 President Idriss Deby seized power in Chad in 1990
But the crisis in Chad is far from over and Thomas Gurtner cannot understand why there is not more support for the aid agencies. "Chad is today a guarantor for security and stability in the Sahel zone, and therefore also for Europe. We are aware of the risk posed by AQIM, and how easily it can spill over. We are not so far from Europe here."
But there are other, more spectacular crises in the world and the situation in Chad could soon be forgotten.