Many Hungarians are friendly in a pleasantly old-fashioned kind of way. If an old lady drops something, several people are sure to come to the rescue. The succession of total strangers holding open doors for women can take some getting used to. And the capital Budapest with its art-deco buildings promises an opportunity to delve into the spirit of those good old days. This national image is the hallmark of Hungary's touristic promise.
The Keleti station, which saw up to three thousand migrants camped out under slum-like conditions outside Budapest's central station for almost a week, has scratched this image. As volunteers willing to help started pouring in from as far as Germany to help the dwindling number of migrants headed West, biblical scenes from Röszke - 500 meters from the Serbian border - only slowly managed to catch the attention of the international media.
Enthusiasm fades fast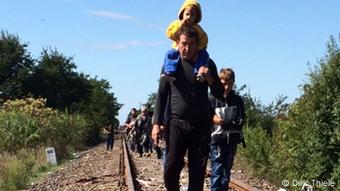 'Ahmed' sits on his dad's shoulders in Röszke
Some 700 people, many of them children, were forced to spend the night out in the open, surrounded by guards, without enough blankets to go around. If this were Germany, unlikely any correspondent would be able to resist drawing parallels to scenes from the final days of the Nazi regime. Defeating it continues to be a source of national pride. But the context makes no difference to those who find themselves on a stretch of grass next to a corn field after reaching what they thought was the safe haven of Europe.
The enthusiasm of having beaten the odds of their dangerous journey and at last reaching the EU fades fast when migrants reach their final stop after walking along a rail track between the border fence with Serbia and what was meant to be a "collection point." Soon they realize that hundreds of police surrounding them will not let them go before registering, even if this means sleeping in the open with small children for several days. This is how Hungary's pledge to fulfil its Dublin commitments looks in action. Exhausted from their sheer endless journey, this Monday alone I witnessed two children between the ages of three and nine collapse under the sun.
By then hundreds were still uncertain whether they would have to spend another cold night on the damp grass. Frustrated migrants, mostly young men, tried to break through police lines several time on Monday, chanting "Freedom" and "Budapest." While few had heard that the official window of opportunity to get into Austria legally was closing, many remain hopeful that making it to Budapest is all that counts now. As anger over the conditions in a field mounts among the migrants from mainly Syria, Afghanistan and Iraq, tension among the police was rising, too. A commander made frantic phone calls as he realized that Röszke registration centre, despite having been extended by two hangars, was yet again overflowing with people - with dozens more arriving along the rail track every hour.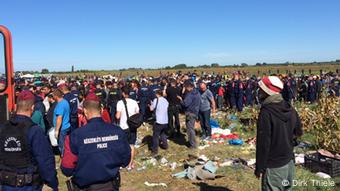 Police in Röszke try to keep track of the arrivals
This is no surprise. This has been happening for days; leaving exhausted policemen to contain the situation. Men who are visibly not enjoying their task. One says "thank you," surprised as I wish him a good night, clearly embarrassed at the situation he has been put in charge of.
Choice words from Hungarian PM
Hungary's Prime Minister Victor Orban has declared that his country has enough police and financial capacity to handle the influx of migrants. If that's the case this raises the question why he isn't sending those resources to Röszke, where three temporary toilets have been set up for at times up to 1,000 people. Where, once again, hundreds of children are set to freeze in an open field overnight.
The UN Refugee agency UNHCR says Hungary has at most 5,000 places in reception camps. According to modest estimates, that's about the number of migrants who arrive within two days. Another clear indication that there is no intention to make them feel welcome.
Victor Orban has gone further. On national TV he criticized Germany's decision to spend some six billion Euros ($6.7 billion) on migrants. At the same time he stated that it was Hungary's right to decide against having large Muslim populations like France, openly telling Muslims once again that they are not welcome.
No migrant I spoke to in Röszke has seen Orban's TV address, yet all of them get the message. Nobody will help me into my coat back in Berlin. I left it in Röszke.