Thailand's foreign ministry has canceled the passport of an heir to the Red Bull energy drink fortune who is now a fugitive and wanted on a deadly hit-and-run charge.
Vorayuth "Boss" Yoovidhya fled Thailand on a private jet last month, just days before a warrant for his arrest was to be issued. He flew to Singapore but left two days later, reportedly for Europe on a commercial plane. But his whereabouts are now unknown.
Yoovidhya is wanted in connection with a 2012 hit-and-run incident that left a Thai policeman dead. The Red Bull heir allegedly plowed his Ferrari into a motorcycle and dragged the rider more than 200 meters (650 feet), to his death.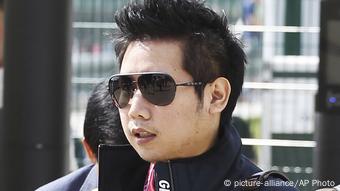 Yoovidhya attending a Formula 1 Grand Prix race in England in 2013
More than the death itself, the case has outraged Thais for the seeming double standard when it comes to the law and the ultra-rich. As co-founders of the Red Bull energy drink the family has reportedly amassed a $20 billion fortune.
Yoovidhya has evaded eight court dates over the past five years, with his lawyers repeatedly arguing that he had business obligations abroad, or was ill.
But reports from The Associated Press (AP) have shown Yoovidhya, now 32, continuing to live the high life despite his legal woes. The reports included his family enjoying a $1,000-a-night vacation in Laos.
Buying a passport
Since the deadly crash there have been more than 120 social media postings showing him traveling in luxury through 10 countries, or more, including snowboarding in Japan, visiting various beach resorts and attending Grand Prix races with the Red Bull team, AP reports.
Now his family and friends have stopped posting photos of Yoovidhya's travels. And while his Facebook page is still up, the name has been changed and updated with a photo of an airplane wing.
But revoking Yoovidhya's passport is not likely to keep him trapped in any one country. Some countries will issue a passport to people making a minimum level of investment. In others, passports can be obtained with what amounts to almost a cash payment.
Thai authorities were to begin the process of having Interpol issue a so-called Blue Notice, which advises officials in 190 countries that Vorayuth is wanted, according to Police Maj. Gen. Apichart Suribunya.
Foreign Ministry spokeswoman Busadee Santipitaks said the government is pursuing Vorayuth's arrest.
"In terms of extradition, that will be up to the office of the attorney general and the police," she said.
A senior police official said they're ready to move the case forward but: "First we have to find him."
bik/se (AP, dpa)