The following comments reflect the views of our readers. Not all reader comments have been published. DW-WORLD.DE reserves the right to edit for length and appropriateness of content.
The EU greatest accomplishment is keeping the peace and working together. -- Harold Raschke-Robinson
Why the skepticism? Europe 50 years ago was recovering from the most devastating war in history. Now you can go from France to Germany without a soldier in sight. This is an incredible achievement and you shouldn't lose sight of that. I hope you have another 50 years in peace. The rest of the world can possibly learn something. -- Carl Anderson, USA
The EU's greatest accomplishment over the last 50 years was uniting Europeans under the EU flag and principles. -- Hossam el Sayed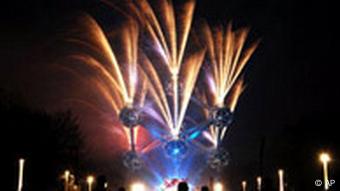 Fireworks in Brussels - but not everyone is celebrating
I think that more than likely a common European identity is something that is probably more necessary than ever. However, I don't think it will be created in the next decade. Sadly enough, there is too much opposition to it since people are not willing to drop old world ideals and develop tolerance and move into the future. -- Stephan
EU greatest accomplishment over the last half century is to create a lasting peace in Europe between the combatants of World War I and World War II. The EU is right in sticking to the ideal that what Europeans have in common is far more important than the regional differences. Keep up the good work into the future for the sake of all Europeans. -- Darren Leer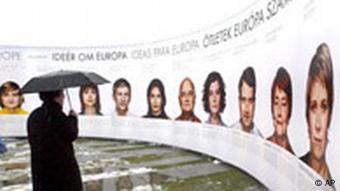 The many faces of European identity
The beautiful thing about EU identity is that it allows you to maintain your national identity at the same time. Knowing that you are European gives you all the freedom to be proud of your background, which again gives you the confidence to strengthen your relations with other Europeans, find similarities, learn about the differences. National identity will probably not disappear -- European and National identities are powers driving each other into a better direction. If one goes off track, the other makes sure we keep on going. -- Ewa Karolina Wiegner, Polish, now living in Helsinki, Finland
Most of what was reported from Berlin at the weekend is welcome and optimistic news for the European Union. However, I for one was not entirely happy to see the ecumenical religious service broadcast on German television. While it was certainly an impressive and lavish spectacle, the sight of all the German government ministers accepting the authority of the three church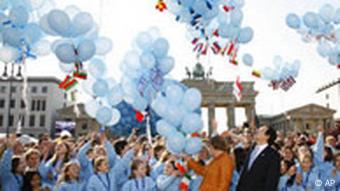 Party in Berlin - should there have been a prayer as well?
leaders and then reverently bowing their heads towards the altar leaves a strong impression that the churches in Germany can impose some of their agenda and succeed in obstructing the emergence of a secular Europe. Surely not all the German politicians are in the grip of the churches, or are they? One can expect that of Poland, but it's regrettable to see a similar trend in Germany. -- Jack Becconsall
I am a great admirer of German Chancellor Angela Merkel. She is exactly right in saying that tolerance is Europe's soul and that we must not tolerate the intolerant. However, she is wrong to say we have Christian roots. Christianity was imported from the Middle East, like Judaism before it. No, like it or not, Europe's roots are Pagan. Would she quote our Pagan roots in a Constitution? I think not. -- Roger Brady, Germany
Take religion out of the equation! We are all human, and to communicate effectively, religion must be put aside so that communication can flow with less obstruction. Both parties need to think about how others feel and stop being selfish and juvenile. They really are acting like children. -- Lynda