Kimi Raikkonen will start an F1 race from the front of the grid for the first time since June 2008 in Monaco on Sunday. His pole lap of 1 minute 12.178 seconds is the fastest ever set around the renowned principality's street circuit.
"I'm really happy for Kimi because he deserves it. The champion is coming out," Ferrari team boss Maurizio Arrivabene said after the session."Sebastian made a mistake in Turn Five but having two cars up there means I'm happy."
The 37-year-old Finn will share the front row with Sebastian Vettel, whose fast lap was just two-thousandths of a second quicker than another Finn, Valtteri Bottas of Mercedes.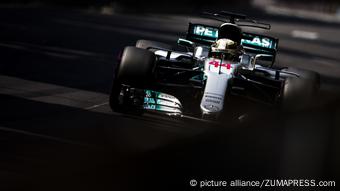 Hamilton said he was struggling for pace even before the Vandoorne incident
Hamilton hamstrung for race
In the other Mercedes, Lewis Hamilton will start just 14th. His qualifying was spoiled late in the second session, when McLaren's Stoffel Vandoorne crashed at the exit of the swimming pool complex. The resultant yellow flags forced Hamilton, who had been struggling for pace in the second practice session, to slow down on his last bid to set a quick lap and make the top-10 shootout for pole.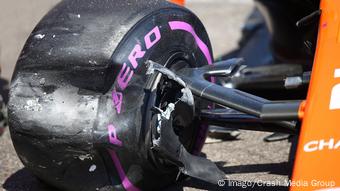 Vandoorne came a cropper on the challenging street circuit, competing there for the first time in F1
Grid position can be hugely important in Monaco, a narrow and twisty circuit where overtaking is notoriously difficult. 2017's new rules have also made it trickier to find a way past other cars.
"I can't pinpoint the problem. It's disappointing," Hamilton said afterwards. "It's a little bit unfortunate with the yellow flag at the end. That lap may have got me into the top 10 but I think I'd have struggled to be in the top five. Valtteri's lap shows we're not terrible here, so we need to know what happened."
Red Bull's Max Verstappen and Daniel Ricciardo qualified fourth and fifth, ahead of Toro Rosso's Carlos Sainz, Force India's Sergio Perez and Haas F1's Romain Grosjean.
McLaren's quicker than usual, but...
Jenson Button, returning to McLaren as a one-off to fill in for Fernando Alonso, who's competing at the Indianapolis 500 this weekend, qualified an impressive ninth for McLaren on his return to an F1 cockpit. However, Button will start from the back of the grid owing to a penalty as McLaren need to switch his Honda power unit ready for the race.
"I'm happy, my one and only qualifying session this year and I'm ninth... and start 20th," Button joked afterwards.
Button's penalty will boost Hamilton on Sunday to 13th on the grid.
Despite Vandoorne's crash, the Belgian will start ninth. He had set a lap quick enough to make the final session before binning the car, but then could not set a lap in the decisive third part of qualifying. Button's penalty pushes him up one spot from tenth.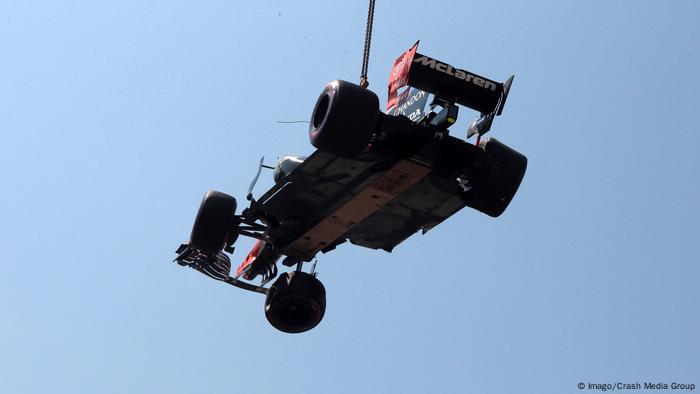 McLaren's mechanics have a busy evening in store, switching Button's engine and repairing the damage to Vandoorne's car