There might not be an abundance of highly paid jobs in Argentina just now, but it seems that nobody had even applied to take over Alberto Nisman's former role. On the contrary, the appropriate federal court called on three judges to take up the task - and all of them refused. One of them was Daniel Rafecas, who has now drawn the short straw.
For a fortnight, Argentina has held its collective breath over the "Nisman case." On January 19, the 51-year-old public prosecutor was found dead in his apartment. For years, Nisman had been investigating the aftermath of a 1994 attack on the AMIA Jewish community center in Buenos Aires. Eighty-five people were killed and several hundred injured in the suicide bomb attack.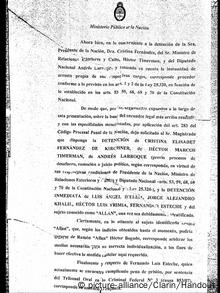 This document, found in Nisman's flat, purportedly shows his intent to arrest President Fernandez
In his investigations, Nisman had seemingly uncovered evidence that Argentina's current president, Cristina Fernandez de Kirchner, and foreign minister, Hector Timerman, had sought to protect suspects from Iran in order to avoid damaging economic ties with Tehran.
The raffle nobody wanted to win
On Wednesday the court ultimately decided which of the three judges would take over the case by lottery. The task fell to Rafecas, a prominent criminal lawyer and Holocaust expert.
The 46-year-old is not liable to be afraid of the big names: In 2004, he appeared publicly as an investigator and judge in one of the highest-profile cases against criminals from Argentina's 1976-1983 military dictatorship.
Later, he took up a case in which Jorge Godoy, admiral of the fleet, and former President Fernando de la Rua were accused of corruption. Most recently, he was a judge in a long-running corruption trial against Amado Boudou, President Fernandez's deputy.
"Rafecas has proved his mettle many times now. He should also know the pitfalls - both in Argentina's legal system and among a polarized public - of investigating the government," the historian Alexander Hasgall told DW.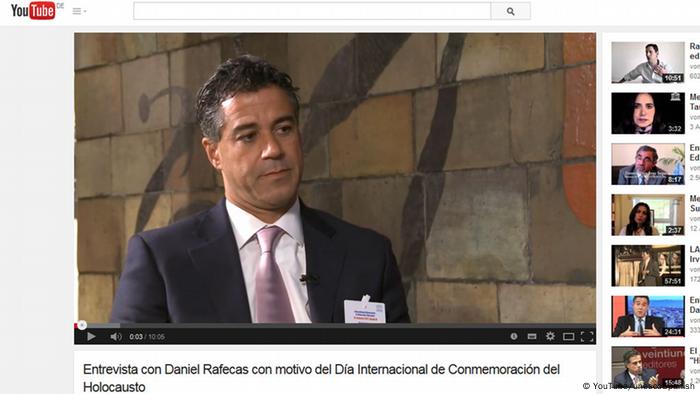 Rafecas is a renowned academic and investigator in Argentina, with close ties to the Jewish community
'Sincere interest in the truth'
It is not merely his background as a top legal official that had predestined Rafecas for the role of investigating the AMIA bombing. The judge is known for maintaining good ties to the country's large Jewish community. Although he has no Jewish heritage himself, he has dedicated much of his career to the history of the Holocaust, publishing "Historia de la solucion final" (History of the Final Solution) in 2012.
"That's certainly unusual for a Latin American non-Jew," Hasgall said. "In that regard, one could argue that he has a sincere interest in the truth."
Hasgall, whose own research topics include Agentina's legal system, notes that this sincere interest is by no means a given: "Politics and the judiciary are traditionally very closely interwoven. Judgments are very often politicized, from all sides."
People in Argentina therefore harbor a proportionate distrust of their legal system. Hasgall says that Rafecas has the chance to sustainably boost this public confidence by showing that he won't be cowed by any side.
Into the spotlight
Nevertheless, Hasgall is not in the least surprised that Rafecas turned down the job at first: "This is the red-hot potato - right now, nobody wants to touch it."
Ultimately, bringing clarity to the 1994 attacks has now become a secondary function: Rafecas must seek to decide if there's enough evidence to accuse the sitting president and foreign minister of committing a crime while in office. Senior and powerful security services members are also implicated in the case.
On top of all this comes the possibility that somebody might have murdered the person perfectly placed to clear all this up.
As if this weren't enough, the death of Nisman has turned the case into a political issue overshadowing all else. Perhaps Rafecas' new, unenviable job is not quite as bad as that of his colleague Viviana Fein; she's charged with investigating Nisman's mysterious death.