Rescuers in the southern Taiwanese city of Tainan have now pulled 114 bodies from the ruins of a 17-story residential complex that collapsed in last weekend's earthquake, authorities said on Saturday.
They said only three residents of the Weiguan complex remained unaccounted for, while 327 people in the building survived the collapse.
The 6.4-magnitude earthquake struck last Saturday during the Lunar New Year holiday. The Weiguan complex was the only high-rise in Tainan to collapse completely, prompting authorities to detain the building's developer,Ling Min-hui, and two architects this week on charges of professional negligence resulting in death.
Flawed construction
Investigators have found a number of deficiencies in the building's construction, including a lack of steel reinforcement girders, a court statement said. Photographs taken of the ruins after the collapse also showed that tin cans and foam were used as fillers in the concrete.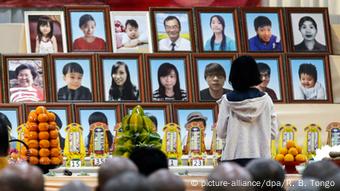 A memorial ceremony to honor the dead has been held
Almost $1 million in assets belonging to Lin and his associates have been frozen to ensure that they do not dispose of them before victims can make claims.
Tainan city officials have said they will be inspecting other buildings constructed by Lin.
Although Taiwan is notoriously prone to earthquakes, they usually cause minor damage at the most, partly because of rigorous building regulations introduced in the wake of a 7.6-magnitude earthquake in 1999 that claimed more than 2,300 lives.
The Weiguan complex was completed in 1994.
tj/ng (AP, AFP)