President Vladimir Putin on Thursday said Russia's air defense systems will remain in Syria on permanent combat duty. He made the announcement during an awards ceremony honoring officers who served in Syria, according to a transcript issued by the executive office.
"Our bases in Syria are at Tartus and Khmeimim. The service personnel there are reliably protected from land, sea and air. All the components of the deployed air defense system, including close-range Pansir-F and long-range S-400 Triumph units will be on regular duty," Putin told officers of Russia's armed forces at the Kremlin in Moscow.
The naval facility in Tartus, built by the Soviet Union in 1971 under an agreement with the Baathist party, is Russia's sole port on the Mediterranean Sea. The Khmeimim air base was built in 2015 in Assad's home region Latakia to provide Russian forces with a launching pad for operations in Syria.
The statement follows Putin's announcement that Russian forces would pull out of Syria, after the country had entered the five-year conflict in September 2015 by launching airstrikes aimed at supporting government forces combating "terrorist groups."
Russia's involvement in Syria was seen by the international community as a controversial turn to the five-year conflict. Early on, activists accused Russia of targeting moderate opposition groups fighting to oust President Bashar al-Assad, although Moscow denied such claims.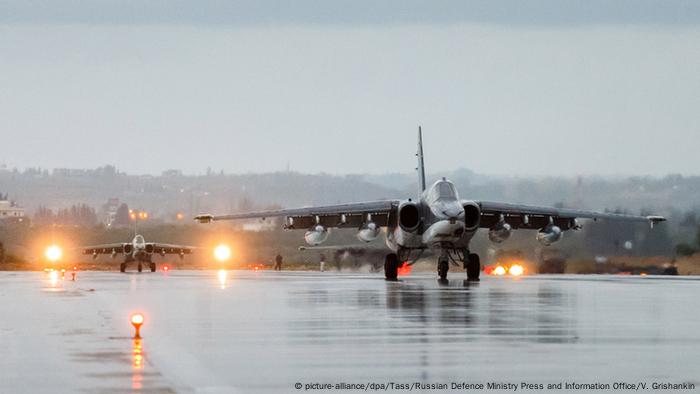 Russia's operation in Syria cost Moscow some 33 billion rubles (428 million euros, $484 million), Putin said
'Any target'
Meanwhile, Putin warned that perceived threats to remaining Russian military personnel in Syria would be met with resistance.
"We have created together with the American side an efficient mechanism to prevent air incidents, but all our partners have been warned that our air defense systems will be used against any target that we deem to be threatening Russian service personnel," said Putin.
"I want to stress: any target," the Russian president added.
Towards peace?
Putin stressed that Russian service members remaining in Syria will work towards ensuring conditions for a political solution to ending the conflict.
"I will repeat that the primary task is to monitor ceasefire and create conditions for a political internal dialogue in Syria," Putin said.
Russia's partial pullout from Syria coincided with new negotiations between Damascus and the Saudi-backed mainstream opposition alliance High Negotiations Committee in Geneva.