Putin, who leaves the Kremlin after two terms on May 7, confirmed that he would become prime minister under president-elect Dmitry Medvedev.
The entire party congress gave Putin a standing ovation as he took the podium after an introduction by Medvedev.
"In what concerns the leadership of the party, for the head of government it is a natural, successful and civilized practice in all democratic states ... and that is why I gratefully thank the party for their proposal and agree to take the head of the United Russia
party," he said.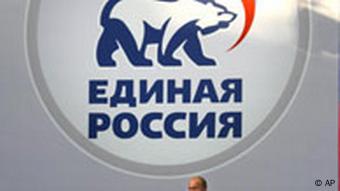 Putin speaks at a congress of the United Russia party
United Russia is seen as an appendage of the presidential administration, uniting almost all Russia's regional governors and top politicians under one banner. During Putin's eight years in the Kremlin, he has steadily centralized power, with United Russia seen as his tool for ensuring the loyalty of an emasculated parliament.
As its ruler and the country's most popular politician, Putin, 55, is set to become Russia's most powerful prime minister ever, undercutting the presidency three weeks before he hands over the 42-year-old Medvedev.
Reorganization
Some United Russia members Tuesday hailed Putin's leadership as a "radical" reorganization in the balance of power toward a parliamentary republic.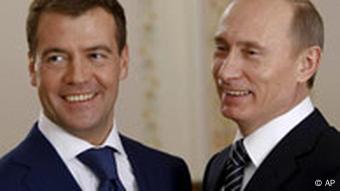 Putin and Medvevev, all smiles
"Analysts and those in the media are still trying to figure out who portrait will end up hanging in government offices across the country," commentator Konstatin Sonin wrote in Tuesday's Moscow Times newspaper.
Some analysts said Putin consolidates power in the party as an alternative to the so-called "power vertical" or Putin's steady centralization of resources in the presidency in his eight-year rule.
But others discounted rumours of change, calling the party a weak and loose "club of bureaucrats and businessmen."
"Putin will take a ceremonial, high-ranking post immune to criticism and without a great burden of responsibility which can offer him independence and security," the head of the National Strategy Institute, Stanislav Belkovsky, told the dpa news agency.
Soviet-era throwback
In a scene reminiscent of Soviet-era mass party conventions, some 600 delegates Tuesday held up a sea of white cards first to vote for an amendment to the charter creating the new post tailored to Putin, and then to unanimously elect him to it.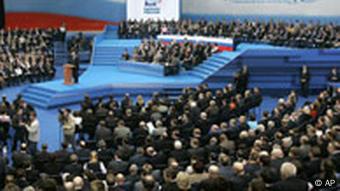 The United Russia party conference
The party presented a glitzy photographic album of tributes to Putin by figures ranging from Mikhail Gorbachev to Soviet writer and former dissident Alexander Solzhenitsyn.
"Putin inherited a country looted and knocked to its knees, with the majority of the population demoralized and impoverished. And he started, little by little, gradually, its rebuilding," Solzhenitsyn was quoted as saying.
Putin, whose popularity earned the party its 315 out of 450-seat rule in Russia's Duma, said he would work to ensure it acts "as a single organism in the interest of the Russian people."
The two-day party rally was adjourned immediately after Medvedev and Putin delivered their quick one-two, entering and exiting the hall walking side-by-side in classic style. The two have promised to rule in tandem and there are no visible signs of conflict.
Russia's president has the power to appoint and fire the prime minister, but he must win parliament's approval, whose majority party Putin will now head.
Chairman, but not member
Putin becomes party chairman without officially joining United Russia, which many see as a corrupt group of functionaries.
With this symbolic distance Putin encourages the Czarist-like appellation of National Leader heard from party delegates. He also rejects being part of mundane of party politics and throws off comparisons to the general secretary of Communist Party of the Soviet Union (CPSU).
Putin "is preserving his independence. He strengthens his role as national leader," Kremlin-linked analyst Sergei Markov said on the sidelines of the conference.
"Medvedev will be president, but the political leader of the country remains Putin," he said.