Building permanent housing in Wesseling is cheaper than setting up container dwellings, at least according to the municipal office of this small western German town located between Cologne and Bonn. What sounds like good news is being criticized by citizens as a dubious calculation. At the center of the dispute is the question of how to house refugees. In many places all across Germany, this is where right-wingers and racists enter the scene - in Wesseling, however, the controversy is about an alleged waste of taxpayers' money.
At the beginning of the year, Wesseling's city council had decided to create housing for refugees, taking advantage of financial assistance provided by the state of North Rhine-Westphalia for that purpose. The plan was to build 28 townhouses across all four town districts, eventually housing a total of 300 refugees.
According to Mayor Erwin Esser's calculation, construction costs incurred by the municipality would amount to 3.7 million euros ($4.2 million), excluding state subsidies. Buying container homes providing similar standards would amount to costs of 6.7 million euros ($7.56 million). Esser finds it difficult to comprehend the criticism of his funding that is being put forward by a local citizens' initiative. After all, he has made his estimate transparent to them, he says.
Waste of taxpayers' money?
The calculation provided by Hille Martini, a member of the local action group, is completely different from that of the municipal leader. She argues that "the subsidies are taxpayers' money as well," amounting to the considerable sum of more than 2 million euros ($2.3 million).
To Martini, the way the town has calculated the outlay for container homes is equally dubious. The municipal office cited costs of around 22,000 euros ($25,000) per occupant. Martini's take: "Based on various calculations from cities such as Brühl (also situated between Cologne and Bonn) and Berlin, we have worked out that around 6,000 euros ($6,700) per resident has to be invested. So we're asking ourselves why such an amount is sufficient in other towns."
Long-term construction schedule
The mayor, for his part, says he does not want to provide shelter for refugees for the short term only. The container homes in Brühl mentioned by the action group were merely for temporary purposes, he adds. "We are building homes for refugees which can be converted afterwards into public housing, or sold." The aim is to accommodate up to 12 residents per house.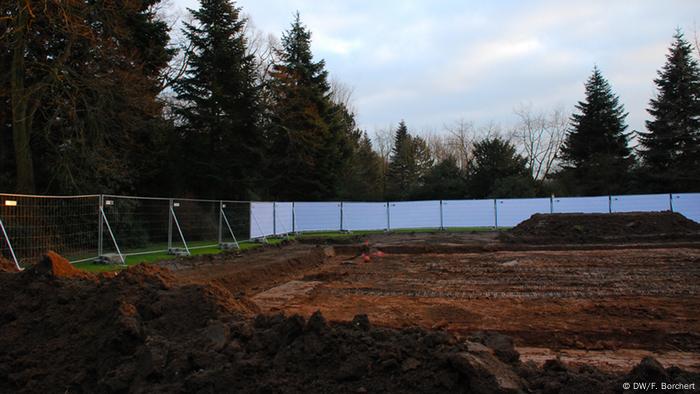 Refugee housing is also being built in neighboring Cologne
Martini, however, casts doubt on whether those houses are really designed to become fixed abodes for refugees. But converting them into detached or semi-detached houses would cost even more money, she says. In addition, the value of the properties provided by the municipality had to be taken into consideration. And in the Berzdorf neighborhood, Martini adds, the required property had yet to be acquired by the municipality.
The sports ground located in the Keldenich neighborhood is one of the sites where the controversial townhouses are to be erected. Thus far, it has served as a meeting point for soccer-playing youngsters of various cultural backgrounds - the sports ground is a place of integration which will be taken away from them, Martini argues.
Flexible accommodation
Despite all its criticisms, the citizens' initiative in Wesseling, unlike in many other places, wants to give the refugees protection. Martini believes, however, that many of them will return to their home countries at some stage to help rebuild them. This is another reason why she would prefer to accommodate them temporarily in container housing.
Citizens in other cities are also opposing refugee shelters. In contrast to the Wesseling initiative, people in larger cities such as Essen and Hamburg are mostly worried about the construction of large-scale housing developments. They fear that these could hamper integration and that ghettos might even form there. There is some fear of such problems in Wesseling as well. "But our focus is on the waste of taxpayers' money," says Martini.
The citizens' initiative has achieved one thing, at any rate: construction will be delayed. Mayor Esser expects the houses to be finished in spring - if the citizens do not keep upsetting his plans.