Supporters and opponents of the plan to grant Hong Kong citizens the right to vote for their next leader in 2017 - albeit from a selection of candidates pre-approved by Beijing - gathered at the Asian financial hub on Wednesday.
Separated by metal barriers and watched over by police, they turned out ahead of the bill going before lawmakers to be debated, and then likely voted on before Friday.
"I'm here to oppose the so-called democracy," protestor Fion Wong said. "Passing it (the bill) would be a betrayal to those who have taken part in the Occupy movement," she added, referring to the mass protests against the election reform which took place last year.
Waving a Chinese flag, a 60-year-old man with the surname of Chan who wouldn't give his full name, said the bill needed to go through.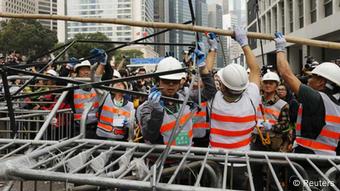 Demonstrators blocked streets for months in 2014 before barricades were removed
"We have to support Hong Kong stability. We cannot keep carrying on like this," he said.
Tensions high
Hong Kong has been part of China under a "one country, two systems" formula since Britain handed back its former colony in 1997. While the bill would allow citizens to directly elect Hong Kong's chief executive instead of the current system of them being voted for by a 1,200 strong committee of elites favorable to Beijing, China would still be able to pre-select the candidates.
Opponents of the bill have called it "fake democracy." Lawmakers from pro-democracy parties have pledged to vote against the bill and hold enough seats to stop it passing.
Thousands of demonstrators occupied Hong Kong streets for several months last year to express their opposition to the bill in one of the biggest political challenges to China's ruling Communist Party, and it's feared this week's debate and vote could trigger fresh protests.
Security has been tightened and tensions have increased after several people were arrested earlier this week on suspicion of explosives offenses.
se/ng (Reuters, AP, AFP, dpa)