Democrats sought to stall proceedings on Capitol Hill on Wednesday in an effort to pressure their Republican counterparts to bring forward tougher gun restrictions in the wake of a shooting at a gay club that killed 49 people.
Leading the charge was Senator Chris Murphy, a Democrat from Connecticut, who held down the floor with a filibuster that lasted at least seven hours and drew praise from liberals around the country.
"I'm prepared to stand on this floor and talk about the need for this body to come together on keeping terrorists away from getting guns...for, frankly, as long as I can, because I know that we can come together on this issue," Murphy told his fellow member of the Senate before launching into his filibuster.
The Democrats are pushing for new legislation that would ban individuals currently on the US terrorism watch list from purchasing guns.
"For those of us that represent Connecticut, the failure of this body to do anything, anything at all in the face of that continued slaughter isn't just painful to us, it's unconscionable," Murphy said.
Twenty children and six teachers were killed in the shooting at Sandy Hook Elementary School in December 2012. Murphy said he cannot look into the eyes of those children's relatives and tell them that Congress has done nothing since.
Murphy is seeking a vote on legislation that would let the government bar sales of guns and explosives to people it suspects of being terrorists. The Orlando shooter, Omar Mateen, was added to a government watch list of individuals known or suspected of being involved in terrorist activities in 2013, when he was investigated for inflammatory statements to co-workers. But he was removed from the database when that investigation was closed 10 months later.
Studies show a large majority of Americans support legislation that would bar known or suspected terrorists from buying guns.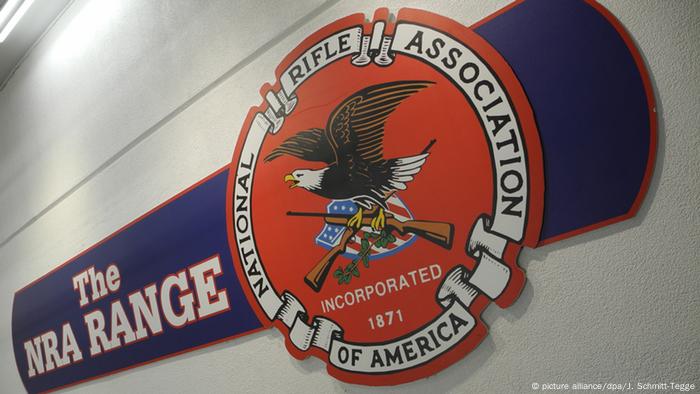 The National Rifle Association has come under fire for helping to block new gun control legislation
Trump to talk with NRA
In a surprise move, Republican presidential candidate Donald Trump announced he would meet with the National Rifle Association (NRA), the organization representing gun-owners in the United States, in order to discuss the terror watch ban.
The NRA responded that it believed that people listed on terrorism watch lists should face additional reviews before purchasing firearms.
Despite the growing calls for tighter gun controls, Senate Democratic leader Harry Reid dismissed the idea that Republican lawmakers were invested in changing the existing legislation. He said discussions "were little more than a smokescreen by Republicans trying to give themselves political cover while they continue to march in lock-step with the NRA's extreme positions."
The shooting at Pulse nightclub in Orlando, Florida, was the deadliest mass shooting in US history. The incident has renewed efforts to restrict the types of guns that can be purchased.
US President Barack Obama is scheduled to visit Orlando to meet with victims' families on Thursday.
blc/sms (Reuters, AP, AFP)