"On March 30th, at around half past nine in the evening, ten men in plain clothes came to my home in Mandalay, saying they had to question me," recalled Nay Lin, editor-in-chief of the online news site Voice of Myanmar (VOM).
The police were investigating him under the anti-terror law and charged him for having interviewed the spokesman for Arakan Army, a rebel group in Rakhine State. The government had recently labeled the group a terrorist organization. In the worst case, he would face a life sentence.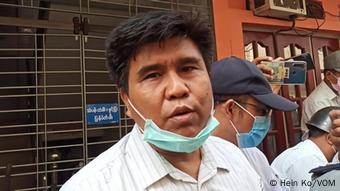 Nay Lin, editor-in-chief of "Voice of Myanmar"
Nay Lin spent ten days in jail, partly in solitary confinement. Although he has been released, he says his arrest also had other consequences. "My colleagues feel intimidated and some have stopped working for VOM," he explained. "One of our media partners also stopped sharing content with us, so we've lost revenue," he said.
Proceedings also began at the same time against two other acclaimed publishers in Myanmar, both members of the press council, who were faced with similar charges. Khaing Mrat Kyaw of the Narinjara News magazine in Rakhine State was not in his office when police came to arrest him and he then went into hiding. The Narinjara News office has been closed for over a month.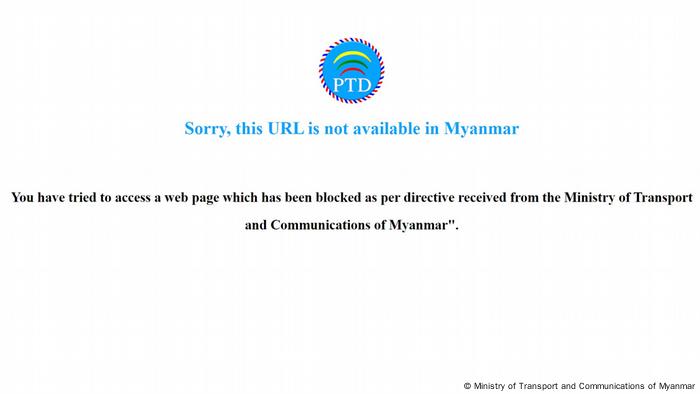 State website blockade: Online media content of VOM and Narinjara News cannot be accessed in Myanmar (as of April 29, 2020)
Pandemic and elections: Blocked websites for first time in years
In a press release at the end of March, Telenor, one of Myanmar's four mobile phone operators, announced that the government had directed it to block access to more than 200 websites. While some sites had pornographic content, the order also affected news sites of critical media such as the Voice of Myanmar and Narinjara News. The other three operators followed the government's directives, as well.
The media rights organization Free Expression Myanmar (FEM), a long-time cooperation partner of DW Akademie, has for three years been monitoring free access to the Internet in Myanmar. This is the first time since then that Myanmar's government has blocked websites, justifying it in part by a need to stop the spread of false reports on the corona pandemic.
Although the blocked media's Facebook pages are still accessible, FEM says that older articles are hard to find there and that the media on Facebook do not generate advertising revenue.
Oliver Spencer of FEM says the current restrictions were foreseeable: 2020 is an election year in Myanmar and parliamentary elections are expected in November. The government, he said, does not want any media coverage of the rebels. "Still, I'm surprised they're continuing this hard approach despite the corona crisis. People urgently need reliable health information, especially in contested regions, but the government is still opting for repression rather than a healthy democratic debate," he said.
In a joint statement on April 2, 250 civil society groups, including FEM, expressed concern that the government was taking advantage of the corona pandemic in order to censor legitimate information. They called for an end to arbitrary Internet blocks and to the nine-month Internet shutdown in the conflict-torn Rakhine and Chin states in western Myanmar. The government has to date not responded. In a statement on April 29, the UN Special Rapporteur on Human Rights in Myanmar, Yanghee Lee, also criticized the proceedings against media workers and the Internet shutdown.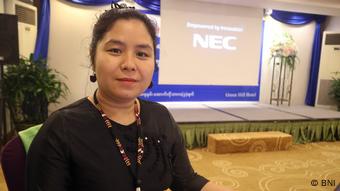 Tin Tin Nyo of the Burma News International (BNI) organization is concerned about ethnic minority media
Focus on ethnic minorities and civil war
Tin Tin Nyo is the managing director of Burma News International (BNI), an umbrella organization of ethnic minority media in Myanmar that is supported by DW Akademie. She noted that the government and military took action against media freedom at a time when the public was distracted by the pandemic. Military offensives against ethnic rebels, including the Arakan Army, suddenly increased as well, she said.
The restrictions particularly affect ethnic minority media that provide detailed and critical reports of the fighting in Myanmar's civil war regions such as Rakhine. Three BNI members' websites are currently blocked.
"These are small media houses and it's easy to put pressure on them," Tin Tin Nyo pointed out. "Our members have often been forced to censor themselves, even before these current restrictions started," she said.
Tin Tin Nyo said ethnic minority media will continue informing the public about the coronavirus. "But at the same time," she stressed, "BNI members will keep reporting on the fighting and deaths. We can't just look away."