Hundreds of spectators watched as the three wings of the Müritz holiday hotel in Germany's northeastern Mecklenburg Lake Plateau region came crashing down, producing 20,000 tons of rubble.
Some had come via organized boat trips to watch the detonation.
German public broadcaster NDR's reporters were there and captured the moment on Twitter.
The hotel, which was located in Klink on the popular Müritz Lake in the state of Mecklenburg-Western Pomerania in the former East, opened its doors in 1974 and quickly became one of East Germany's top destinations for holidaymakers.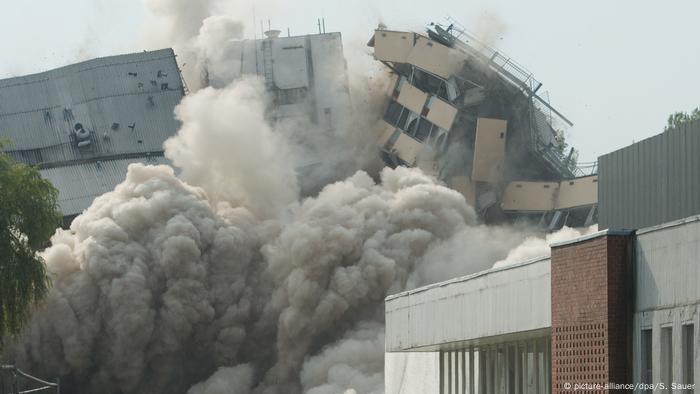 Gone in 3, 2, 1...
Coveted places
It was run by the German Democratic Republic's (GDR) Free German Trade Union, which was responsible for deciding who could go on vacation there. Some never managed to clinch a spot in the popular hotel.
After reunification, a private investor kept the hotel going, but it was used primarily for conferences, as it boasted the largest rooms in the state of Mecklenburg-Western Pomerania.
Read more: Mecklenburg-Western Pomerania - lakes and the sea
So, guests kept on coming until 2015, 1970s GDR charm notwithstanding. German Chancellor Angela Merkel and the late foreign minister, Guido Westerwelle, as well as rock band The Scorpions were among the guests.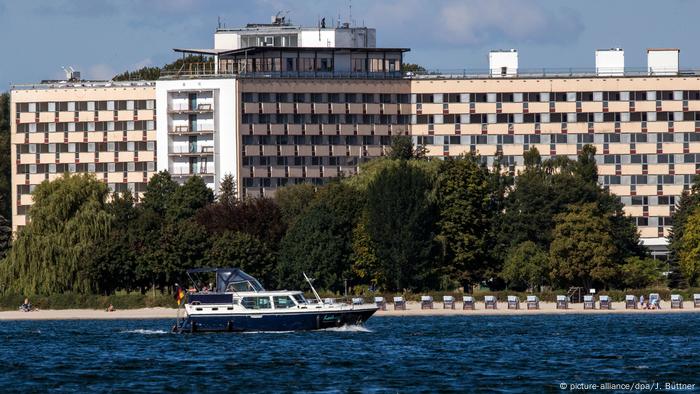 The hotel boasted its own beach on Lake Müritz
Eventually, authorities decided it was not worth refurbishing.
The picturesque Mecklenburg Lake Plateau is made up of several lakes and a national park, and it is also not far from the Baltic Sea coast.
A new hotel is planned at the site, which is scheduled to open its doors in 2020.