"We are opening it for Saint Valentine's because we wanted the public to be able to get in before we close the site to refurbish the roof and supporting structure," said Michele Granatiero, the project's head architect. "It is an opportunity to create an architectural, structural and technological work of great impact," he said.
Pompeii, the second most visited attraction in Italy after the Colosseum in Rome, with a record 3.2 million visitors in 2016, has been plagued in recent years by a series of collapses due to lack of maintenance and bad weather. The rusting poles holding up the walls at the House of the Chaste Lovers will be replaced with a few external braces and dozens of underground struts. Visitors will explore the site from a new raised walkway under an aluminium and plexiglass roof.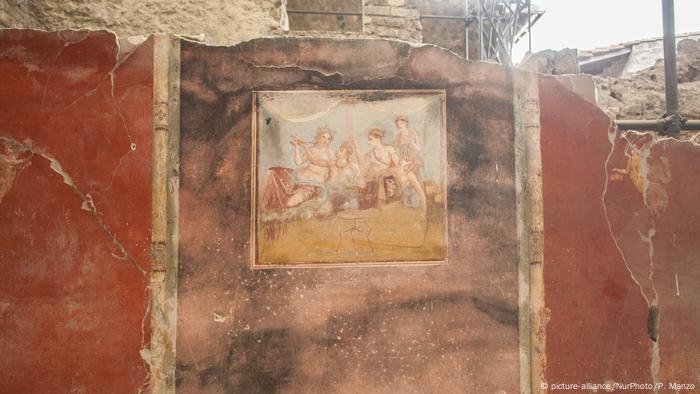 The Domus of Chaste Lovers in Pompeii
Those lucky enough to get in now will tour in groups of up to 20 around an enchanting area with mosaics of coloured marble, storerooms of ceramic pots and frescoes of birds, plants and one of the softest smooches of the Roman era.
Visitors will be able to snatch a rare glimpse this weekend of the 1500-square metre (16,000 square foot) site. After February 14 it will close its doors again for a four-year restoration as part of a multi-million euro Pompeii preservation project.
isi/at (afp)