Voting officially ended at 6 p.m. local time, although voters still waiting in line would be allowed to cast their ballots, an
official said.
"Those who came and entered the line before six, they have the right to cast their vote, it doesnt matter how long it will take," said Farooq Wardak, director of the secretariat of the Joint Election Management Body (JEMB).
Results are not expected until Oct. 30. Should no candidate manage to get enough votes, a run-off election is scheduled to take place Nov. 20.
Earlier on Saturday, the JEMB, consisting of Afghan and UN officials, had announced that elections would not be halted despite calls by all opposition candidates to do so.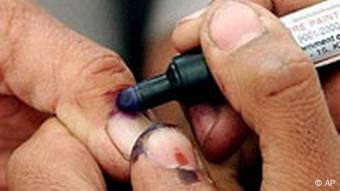 Some polling stations used non-permanent ink to mark voters
"Hundreds are voting and at this point halting the voting is unjustified and would deny these individuals the right to vote," the JEMB said in a statement.
An aide to Yunus Qanooni, the main challenger to President Hamid Karzai, said earlier the opposition candidate was demanding a suspension of the first Afghan exercise in democracy for decades to prevent further fraud.
Another challenger, Abdul Satar Sirat, said 14 candidates called for a halt following an early morning hitch when it appeared the ink meant to prevent multiple voting could be rubbed out. News reports on Saturday also said that all candidates running against Karzai had decided to boycott the election. So far, 14 candidates have announced they will not accept the results and have called for new elections.
But the election commission said the glitch was a case of inexperienced electoral workers in Kabul polling stations using the wrong ink and had quickly been rectified.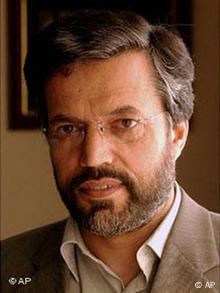 Mohammad Younus Qanooni
Qanooni's aide meanwhile said the halt call had also been prompted by claims that while polling stations were open in areas noted for Karzai supporters, they had closed in areas popular with opposition supporters.
But Karzai rejected the allegations.
"It is too late to call for a boycott now that millions of Afghans have come from their homes despite rain and snow and they have voted," the US-backed candidate told a news conference. "We should respect the people's will. I'm very delighted that all over Afghanistan, with the help of God, people with a lot of happiness and enthusiasm went to ballot boxes and voted. This shows the political understanding of Afghans and their will for a peaceful future."
Voters had flocked to polling stations as soon as they opened at 7 a.m. despite threats of violence from supporters of the former Taliban regime and the Al-Qaeda network.
"I came here to elect my president on my own. The election marks the end of warlords and wars in my country," said Hayam Udin, 50, in Kabul, echoing the hopes of countless fellow voters.
Testing Afghanistan and US
The vote is a milestone in Afghanistan's road to recovery after a quarter-century of war capped by five years of harsh rule by the Taliban Islamic fundamentalist militia, who were ousted by US-led forces three years ago for harbouring Osama bin Laden after the Sept. 11 terror attacks.
The ballot is also a test for US President George W. Bush, who will take his controversial foreign policy to the polls in under a month.
US officials have hailed the vote as a fulfilment of US promises of democracy, as they prepare for polls in Iraq in January.
Afghan President Hamid Karzai
Karzai (photo), who cast his vote under tight security in Kabul, said he was aware of the ink problem and was taking it seriously.
"This is very important for our election....The important point is that all Afghans around Afghanistan are taking part in the elections," he said.
Karzai, chosen as interim leader by a council of tribal leaders in June 2002, only managed one campaign rally. His first attempt at rallying the people was aborted by an assassination attempt.
The urbane 46-year-old is running against 17 other candidates, including one woman, a French-speaking poet and two warlords.
Chief rival Qanooni is the favourite of the powerful anti-Taliban ethnic Tajik clique from the northern Panjshir Valley.
With few policies in the campaign, most Afghans were expected to vote along ethnic lines, giving Karzai a strong chance as he hails from the southern Pashtun majority, shared by the former Taliban rulers.
Tajiks, Uzbeks, Hazaras and Baluchis make up the rest of the mosaic of Afghanistan's tribes.
Fears of voter intimidation
Fears were high ahead of the poll that warlords, who still wield power through their private armies, would intimidate voters.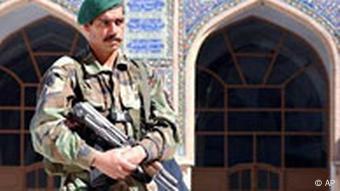 An Afghan army member stands guard inside the main mosque in Herat
The still-undersized Afghan army and police force are inadequate to guard all 5,000 polling booths so militiamen from warlords' private armies have been deployed in many areas.
Backing up the local security forces 27,000 foreign troops from a US-led coalition and NATO, to protect the 10.5 million registered voters.
Only 230 international monitors are braving threats of Taliban violence, which has claimed 12 electoral workers' lives since May.
Almost 4,000 local observers are assisting.
"This is the most important day in the history of Afghanistan. Today we have the golden chance to vote that we have been waiting for for so long," Haji Abdul Salaam, 55, said in the conservative southern city Kandahar.
In the western city of Herat, roughly equal queues of men and women waited to cast their ballots at the Takiy school.
"I was so happy I did not sleep," said Gholam Rezah, 55.
The country was reported to be largely peaceful except for a firefight between US-led troops and militants south of Kabul in which three coalition troops were wounded, Major Scott Nelson of the US-led coalition told AFP.
Some 350 kilograms of explosives were seized as they were being smuggled over the border from Afghanistan, Nelson said.