A new poll published Thursday indicated that Dilma Rousseff is the most unpopular democratically elected president since the end of Brazil's military dictatorship in 1985.
Rousseff was revealed to have an approval rating of 8 percent, according to a survey conducted by polling firm Datafolha, and 71 percent of respondents in the poll said they disapprove of how Rousseff is doing her job.
Two-thirds of respondents said they would like to see Rousseff impeached.
Rousseff, who succeeded popular former President Luiz Inacio Lula da Silva, has been the target of widespread outrage over corruption, a foundering economy and increasing unemployment.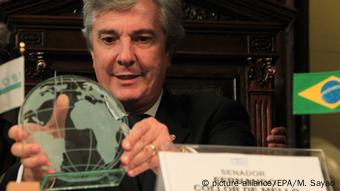 Collor resigned in 1992 amid allegations of corruption
The recent poll suggests she is less popular than Fernando Collor, who resigned in 1992 amid allegations of corruption. Collor had an approval rating of 9 percent when he left office.
"Dilma has thus become the president with the worst approval rating among all those elected directly since the return of democracy," said the newspaper "Folha de Sao Paulo," which belongs to the same group as Datafolha.
Datafolha first began polling during Collor's time in office. In 1990, he became the first democratically elected president since the end of military rule in 1985.
Rousseff continues to be plagued by a corruption scandal at state-run oil giant Petrobras, which has also implicated Brazil's ruling Workers' Party. She chaired the Petrobras board of directors from 2003 to 2010, the period during which the corruption is alleged to have taken place, though she has not personally been implicated in the scandal.
On Wednesday, two former executives at Brazilian construction giant OAS were sentenced to 16 years in jail for bribing officials and politicians in order to secure contracts with Petrobras.
The poll revealed that 66 percent of those questioned would like to see the Brazilian Congress begin impeachment proceedings against Rousseff. A nationwide rally calling her for resignation is planned for August 16.
bw/cmk (AFP, dpa, Reuters)