Enthusiasm for Clinton was significantly higher among Europeans than Americans the survey that was carried out by the Harris Institute for France 24 television and the Paris-based International Herald Tribune found.
Asked which of the 10 candidates would make the best president, Clinton was chosen by 22 percent of the Americans queried, 24 percent of the British, 29 percent of the Spaniards, 30 percent of the Italians, 35 percent of the French and 40 percent of the Germans.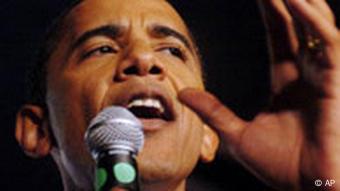 Obama trailed Clinton in this poll, too
Democratic Party rival Barack Obama and Republican Rudy Giuliani finished second among Americans, both with 12 percent. Obama was the runner-up in France and Germany, while Giuliani was the second choice in Britain, Italy and Spain.

Europeans more positive than Americans


Over half of the European respondents agreed that electing a woman as US president would have a positive effect on the United States, with numbers ranging from 53 to 56 percent in Spain, Italy, France and Germany. Only 29 percent of Americans, however, thought it would be positive, while 26 percent said the effect would be negative.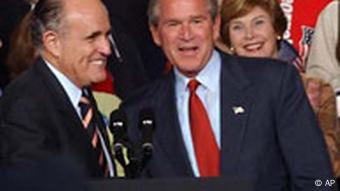 Giuliani faired far-better than party colleague Bush in the poll
Asked whether the election of a black man would have a positive effect, 43 percent of Britons and Germans and 50 percent of Spaniards said yes. Only 33 percent of Americans agreed.
The poll also showed how unpopular President George W. Bush is among both Europeans and Americans. They were overwhelmingly opposed to him running for president again, with 72 percent of Britons, 87 percent of the French and the Germans, and two-thirds of Americans rejecting the idea.
The survey was carried out between Nov. 1 and 14, 2007. Over a thousand adults were polled in Britain, France, Germany, Italy, Spain and the United States each, a total of 6,590.