When Gabor Greiner removes a tweet from @FilmsBoutique, he said it's because of "typos, typos, typos." But Greiner can be confident his deleted tweets are gone and won't cause him any embarrassment. For politicians, on the other hand, the online platform Politwoops is keeping deleted tweets as part of the public record.
Developed by the Open State group in the Netherlands, Politwoops tracks Dutch politicians' tweets as they are published and records if a politician chooses to erase them from Twitter.
"The goal was to make politicians aware that they kind of have a public function, and that they should be careful about what they put on the Internet because once you put it out there it's basically there forever," Politwoops developer Breyten Ernsting told DW.
Launched as an open source project two years ago in the Netherlands, Politwoops sites now track politicians in 21 countries, including most recently Greece. A beta version of the tool currently tracks German elected officials.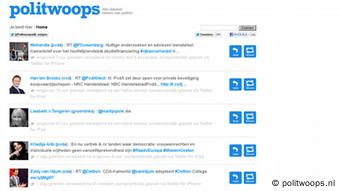 Politwoops started by tracking only Dutch politicians but now follows representatives from 21 countries
The Sunlight Foundation, a former winner of DW's online activism awards, The Bobs, expanded on the software when it started to track US politicians in May 2012.
"We saw that politicians and candidates were turning to social media to get their messages out. And in light of a few scandals from a number of years ago, such as Anthony Weiner, we knew that Twitter was ripe for bringing more accountability to government," Liz Bartolomeo, the Sunlight Foundation's media director, told DW, referring to a member of the US House of Representatives who resigned after a sexting scandal.
Changing the message online
Since launching last year, Bartolomeo said the US Politwoops has recorded about 6,000 deleted tweets, which the group has kept and made searchable by state, political party and elected office on its website.
"Unlike the Congressional Record or e-mails from members of Congress, tweets are not part of any record, and we know that politicians can also easily delete tweets," Bartolomeo said. "With Politwoops, we see into the spin room of the digital age, and we are able to archive how Congress is changing their message online."
While most of the deleted tweets contain typos or missing or broken links, Bartolomeo said Sunlight Foundation staff comb through all the deleted tweets it records to check what their possible causes might have been.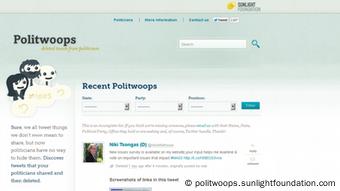 The Sunlight Foundation checks deleted tweets and comments on some of them in a blog
The case was clear for a Congressional staffer for Representative Raul Labrador who tweeted "Me likey Broke Girls" after a racy ad featuring the show's actresses Kat Dennings and Beth Behrs dancing was broadcast during the US Superbowl. The tweet was deleted after just 14 seconds, but the staff member, Phil Hardy, who thought he was posting from his own Twitter account, ended up losing his job.
"Because of the 24/7 media cycle and Facebook and Twitter politicians are under a microscope and not only are the media following them but opposition research and bloggers who are looking for the next big scoop," Bartolomeo said.
Preventing regrettable tweets
But developers are working on tools that might make it harder for journalists to come by those scoops.
Hazim Almuhimedi and a team of researchers at Carnegie Mellon University in the US analyzed 1.6 million deleted tweets from a week's worth of posts by 292,000 Twitter accounts. Almuhimedi said the sentiment of the message was one difference he and his team found between deleted and undeleted tweets.
"Deleted tweets contain more negative sentiment than undeleted tweets," Almuhimedi told DW. He added that his current work focuses on looking at a tweet's content as well as other factors, including metadata and context, to ask users if they really want to make a post.
"We are interested in developing technologies that might help nudge users toward posting things they will not regret in the future and to reduce the likelihood of posting something they wish they had not," Almuhimedi said.
But until then, everyday Twitter users will have to rely on spell check software and politicians will have to think twice before they tweet or delete.