Polish President Lech Kaczynksi will be remembered as a man with traditional values that sharply divided European opinion.
Kaczynski was frequently vilified by those on the left of the political spectrum for his policies, which included banning a gay pride parade when he was mayor of Warsaw.
However, his tough stance on law and order and emphasis on family values gained him support among many Poles, especially older voters.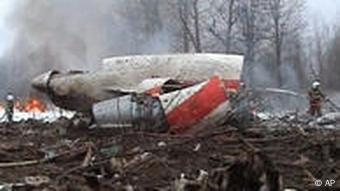 The plane came down close to its destination
The Polish president died, along with his wife and many of Poland's political elite, in a plane crash on Saturday, close to the Russian city of Smolensk.
Kaczynski became Poland's president in 2005 and was expected to run in new elections in autumn this year. He formed a political double act with identical twin brother Jaroslaw and the pair's right-wing nationalist stance was disquieting to many in Poland and the rest of Europe.
Strong US ties
As president he advocated strong ties with the United States, supporting the controversial missile defense system proposed by former President George W. Bush.
Regarded by some as a Eurosceptic, he also emerged as one of Moscow's greatest critics during the Russia-Georgia conflict in August 2008.
Born in Warsaw in 1949, Lech and his twin, who was older by 45 minutes, were inseparable as children, playing title roles at the age of 12 in a film called "The Little Hoodlums Who Tried to Steal the Moon."
They studied law together at the University of Warsaw and were both active in the anti-communist opposition.
Detention and interrogation
Kaczynski was interrogated after the declaration of martial law in Poland in December 1981 and was kept in an internment camp for most of the following year.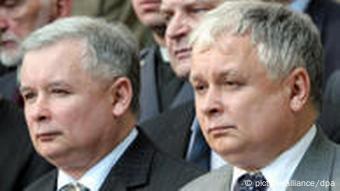 Brothers Lech Kaczynski, right, and Jaroslav Kaczynski were close allies
He served as an adviser to Lech Walesa, leader of the pro-democracy movement Solidarity when it was legalized. Kaczynski took part in talks with Poland's weakening communist regime to pave the way for Poland's first semi-free elections since the war.
Both brothers were elected senators and Lech was president of the country's Supreme Chamber of Control from 1992 to 1995. He also went on to serve as the Mayor of Warsaw and as Justice Minister.
Campaign for victims
Lech Kaczynski won the 2005 presidential elections with 54 percent of the vote, campaigning on a theme of fighting corruption, family values and justice for victims of the former communist regime.
Jaroslaw led Poland's parliamentary opposition, the Catholic Law and Justice Party, having previously served as his brother's prime minister.
Kaczynski was married to economist Maria Kaczynska, who also died in the crash. The couple are survived by their daughter, Marta.
rc/Reuters/AFP/dpa
Editor: Kyle James