Some 12 to 14 million ethnic Germans were victims of mass expulsions from Poland, the Czech Republic and other countries in Eastern Europe in the aftermath of World War II.
Many are represented by expellees' groups like the Prussian Trust, whose compensation claim against Poland was confirmed on Friday by the European Court of Human Rights in Strasbourg.
"If the Germans want money for the property they lost they should address their demands to the US, Britain and the heirs of the Soviet Union," said Wladyslaw Bartoszewski, a former foreign minister of Poland.
These three states decided the fate of the ethnic German population in the regions of Silesia, Pomerania and East Prussia, he told the Polish newspaper Rzeczpospolita.
Bartoszewski was referring to the 1945 Potsdam Agreement which among other things redrafted Germany's borders, giving control of East Prussia, Silesia and part of Pomerania to Poland.
No support from German officials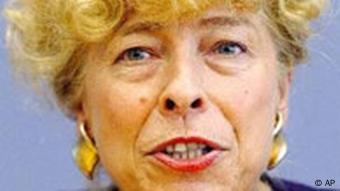 Schwan is president of Viadrina University in Frankfurt (Oder) near the Polish border
In Germany, too, government officials said they hoped that this most recent compensation claim would not find support.
"I expect other politically relevant forces will distance themselves from this action, including the German Federation of Expellees," said Gesine Schwan, the Berlin government's coordinator for relations with Poland.
Erika Steinbach, who heads the federation, said that her organization would not back the compensation claims.
Markus Meckel, a foreign policy spokesman for the Social Democrats, called on the government to withhold all support for the legal action.
The Prussian Trust said its first claim covering 22 separate cases was submitted to the Strasbourg court on Nov. 20. Trust supervisory board member Rudi Pawelka said more cases would follow.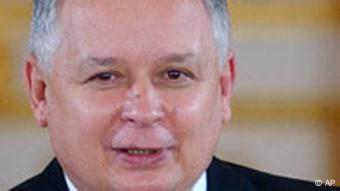 Lech Kaczynski
"Such legal proceedings would have a devastating influence on the relations between two European states," Polish President Lech Kaczynski said on Friday.
Merkel and her predecessor Gerhard Schröder said repeatedly the German government would not lodge any claim against Poland, but was powerless to stop individuals or organizations from taking legal action.
Polish PM criticizes renewed German nationalism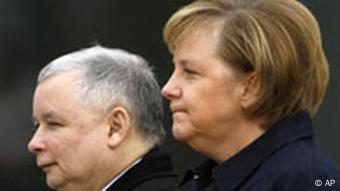 Jaroslaw Kaczynski with German Chancellor Angela Merkel in Berlin in October
Polish Prime Minister Jaroslaw Kaczynski, the president's twin brother, on Saturday meanwhile slammed what he called Germany's return to nationalist ideology and "radical" questioning of history.
"We observe in Germany a process deeper than a simple attitude of one government or another," he said in an interview with Rzeczpospolita. "It's a re-nationalization of politics, an exceptionally radical calling into question of historical judgements."
In his strongest attack on Germany since coming to power, the Polish prime minister lamented "the obvious anti-Polish sentiment, that's often racist, of some Germans."
Talking about the Prussian Trust's claim, Kaczynski said he expected the German government to take a stronger stance.
"Germany hasn't fully explained its legal position faced with property in Poland," he said. "Its declarations in this area remain insufficient."
He deplored the fact that German Chancellor Angela Merkel has rejected his proposal to sign a bilateral treaty to mutually abandon future financial claims.