The construction of a metro underneath the center of the old city is widely blamed for the disaster of March 3 2009 in which two young men died and a huge collection of irreplaceable historical documents was buried under tons of rubble.
Some 200 police officers swooped on the headquarters of Cologne's local transport company, KVB, and on offices of building firms involved in the underground project.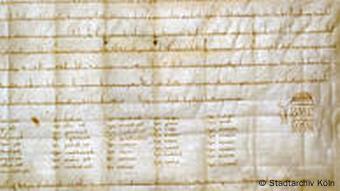 As well as the cost to human life, the collapse of the archive wiped out a priceless collection
Chief state prosecutor Guenther Feld said Frankfurt, Berlin, Munich, Essen, Duesseldorf, Karlsruhe and Wiesbaden were among the cities where Tuesday's raids had taken place.
The Cologne state prosecutor's office is investigating on suspicion of negligent homicide and endangering a building. Feld said the raids had been necessary even though those involved had been cooperative up to now.
"We still do not suspect any individual in particular," said the city's top chief prosecutor.
Building of subway restarts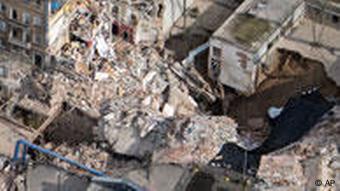 This is what the scene of destruction looked like from above
Meanwhile, the construction of the subway line continues. A temporary halt in building work was rescinded on Tuesday, March 31, after independent experts had inspected the building sites.
The city transport's supervisory board has decided to retain the technical director Walter Reinarz (CDU) in his post while the investigations are ongoing. Reinarz has come under fire for failing to pass on important information about groundwater problems in the metro construction site near the historic archive.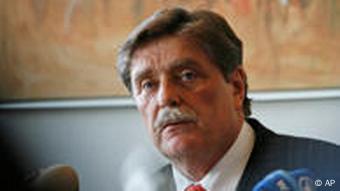 The city's mayor believes he has been unfairly attacked over the affair
Cologne Mayor Fritz Schramma (CDU) continues to back Reinarz. On Sunday, however, Schramma himself announced that he would not be standing again for re-election in summer, in part because of anonymous attacks from the ranks of his own party for his handling of the crisis.
The city mayor said that he had been placed under general suspicion and described the attempt to find the culprits for the disaster as a "politically motivated search for scapegoats."