The home and workplace of the police officer suspected in the two incidents have been searched, Hanover Attorney General Thomas Klinge said on Monday. "We seized an illegal weapon at his home," said Klinge, who identified the officer as a member of a federal police force that patrols railway stations and trains. The authorities had previously received information and documents from two witnesses.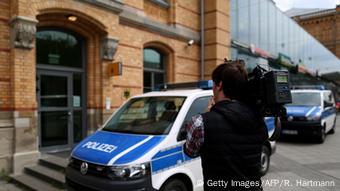 The Hanover police station has been in the media spotlight since the allegations were made
The move came as German public broadcaster NDR reported that federal police in the northern state of Lower Saxony were mistreating migrants in custody and then documenting the violence in a series of mobile phone photos and bragging text messages.
The level of "racism and inhumanity" inherent in these acts is shocking, the head of Germany's Pro Asyl human rights organization said.
Demands for transparency
And this is not only about the alleged two incidents, Günter Burkhardt told DW on Monday. Referring to the NDR report, he said other officers must have known about it, may have received instant messages and photos, and a senior officer is even said to have shut the door when things got too noisy. "If that's the case, they are just as guilty."
"It is utterly shocking that a state official in Germany, a democratic country, would torture migrants," Burkhardt said, adding that apart from the state prosecutor's investigation, it is now up to the Federal Interior Minister to take appropriate steps - and a very close look at the federal police.
"Racist acts by the police are a completely new category," Burkhardt said.
The Interior Ministry on Monday conceded that the allegations were "grave" and told reporters that it had a vested interest in clearing things up as soon as possible.
It's certainly a serious case, said Rainer Wendt, chairman of the German Police Union. He welcomed the fact that the prosecutors in Hanover acted quickly, adding that the next steps depend on what the investigation finds. It would be "explosive," he said, if other police officers were in the know or even involved in the incidents.
Germany's federal commissioner for migration Aydan Özoguz called the charges against the federal police in Hanover "shocking."
NDR said police arrested a 19-year-old refugee from Afghanistan at the Hanover train station in March 2014 after he was found without a valid passport.
Humiliation and shackles
According to a message from the instant messaging service WhatsApp, NDR said, an officer wrote about how he "dragged him by the foot shackles through the station."
An unnamed department insider told the broadcaster there were often loud cries in the holding cells.
NDR also reported about another incident in September. Police arrested a 19-year-old Moroccan after he failed to show a ticket on a regional train. The man was also taken to the station's police department, where he was tormented.
"(An officer) heard him squeal like a pig," a WhatsApp message reportedly read. "Then the bastard gobbled up the rotten pork leftovers in the refrigerator. Off the floor." Pork is a taboo for observant Muslims.
In 2005, Oury Jalloh, burnt to death in a police cell in Dessau in East Germany. Police claimed an asylum-seeker from Sierra Leone set fire to his mattress. In January 2015, a group calling itself the European Network for People of African Descent (ENPAD) urged re-opening Jalloh's case with an independent investigation.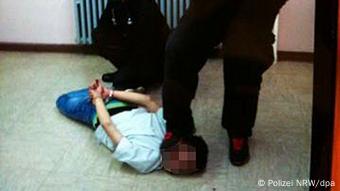 Beaten and humiliated by security officials in Burbach
Last year, asylum seekers were allegedly abused by private-sector shelter staff in the western German town of Burbach, and picutres showed acts one might more readily associate with the US Guantanamo Bay prison.
Germany is Europe's top destination for people fleeing war and poverty. Last year, asylum requests rose 60 percent to more than 200,000, and the government expects that number to more than double this year.