Berkin Elvan was hit in the head by a teargas canister after leaving his house to buy bread during anti-government protests in Istanbul in 2013. He went into a coma and died in March 2014.
Elvan's death sparked further demonstrations when no prosecutions were made. Elvan's parents and supporters remain angry that no police officer has been brought to trial over his death. They have accused authorities of concealing the name of the person responsible.
Current President Tayyip Erdogan was prime minister at the time of the 2013 protests. He claimed Elvan was linked to "terrorist" groups. Elvan's family said he was not involved in the demonstrations.
In the capital, Ankara, police on Wednesday detained 11 people who had blocked traffic in a working-class district. Many people of the Alevi faith live in the area and Elvan was of the same faith. Mainly leftist protesters chanted "Berkin Elvan is immortal."
Istanbul protests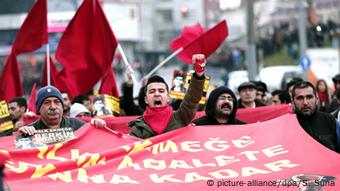 Protesters mark the death of Berkin Elvan
In Elvan's neighbourhood of Okmeydani in Istanbul, hundreds of protesters marched towards the cemetery where Elvan is buried. Wearing red scarves and gas masks, more radical protesters chased police with Molotov cocktails and firecrackers in the sidestreets. They faced armored police vehicles firing water cannon. Police then chased protesters using tear gas and rubber bullets, witnesses said.
At Gezi Park in the center of the city, which was the hub of the 2013 protests - police detained eight high-school students. They had sprayed red paint to represent blood and displayed a banner saying "Berkin is here."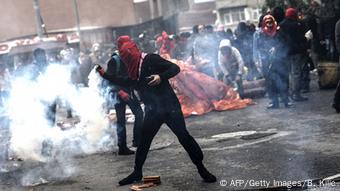 Istanbul protests
Some protesters refused to give way and held on to each other. Ten people were arrested by plain clothed policemen and marched away according to witnesses.
Protests took place in some twenty cities in Turkey, according to local media. The slogan "We have not forgotten you, Berkin Elvan" was sent on social media sites such as Twitter.
New security bill
The rallies have taken place as the government has introduced a controversial security bill through parliament. It seeks to give police the power to use firearms to prevent an attack in a public place against people using Molotov cocktails or similar devices.
Those found in possession of the items would face up to four years in jail. The law also calls for stricter punishment for people wearing masks to hide their identities.
jm/rc (AFP, Reuters, AP)