Bartoszewski's official position will be secretary of state in the prime minister's chancellery where he will advise Poland's new Prime Minister Donald Tusk and new Foreign Minister Radek Sikorski.
Wladyslaw Bartoszewski's nomination had a "symbolic character" and was meant to raise the country's profile on the international stage, Prime Minister Donald Tusk said at a news conference in Warsaw on Wednesday, Nov. 21.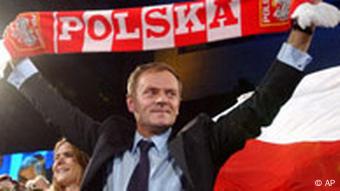 Donald Tusk won last month's Polish elections
"He is a patron of a new chapter in Polish history," said Tusk, whose government took office last week.
Poland gives a sign of good will
Tusk has pledged to mend fences damaged by his nationalist predecessor Jaroslaw Kaczynski, who had a turbulent relationship with Germany.
The ousted premier regularly raised the spectre of Polish suffering at the hands of the Nazis during World War Two as he accused Berlin of trying to dominate the Europe Union.
After his appointment as state secretary, Bartoszewski, who spoke in both Polish and German at the press conference, said his priorities would the German-Polish relationship and the Jewish Diaspora.
"With my appointment to this position, Poland has given Germany a sign of its good will," the 85-year-old historian said.
Poland now expects "gestures of good-will" in return, he added.
Six months in Auschwitz
Bartoszewski, a Roman Catholic, was a member of the Polish underground during the Nazi German occupation during World War Two. He was arrested in Warsaw in 1940 and sent to the Auschwitz concentration camp in occupied Poland.
The relationship between the neighboring countries is tense
After his release from Auschwitz in 1941, he continued to fight against the Nazis and to save Jews from the extermination camps.
Despite his experiences under the Nazi regime, Bartoszewski has close ties to Germany. From 1982 to 1989 he taught at universities in Berlin, Munich, Eichstätt and Augsburg. In 1986, he was awarded the prestigious Peace Prize of the German Book Trade.
Opposition politicians have accused Bartoszewski of being soft on Germany.
Bartoszewski was Poland's foreign minister in 1995 and again from 2000 to 2001.