Thousands of mourners gathered for the funeral Mass and burial of Polish President Lech Kaczynski and his wife Maria on Sunday in Krakow.
Tens of thousands of people lined the streets with outstretched hands, some holding flowers and national flags, and many wiping tears from their eyes. Hundreds of thousands were watching the events broadcast live in Poland and around the world.
"The death of these outstanding representatives of our people is a great loss for us. People from all stations of life and various political views are lost," said acting president Bronislaw Komorowski, in eulogizing not just the Kacynzskis, but all those killed in the crash.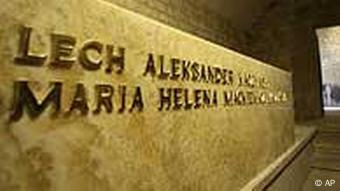 The president will be buried at Wawel, a complex of buildings on the Vistula River
During the funeral mass, the couple's only child, Marta, sat with her uncle, head of the opposition Law and Justice Party, Jaroslaw Kaczynski, in the first row. Jaroslaw and Lech Kaczynski were twin brothers. Some 700 Polish officials, foreign dignitaries and others sat behind them.
The presidential couple was then laid to rest alongside Poland's kings, poets and national heroes occupying the crypts in Wawel Cathedral. The decision to entomb a leader seen as divisive by many during his lifetime in such a hallowed place has sparked a fierce debate in Poland.
The Kaczynskis and 94 other members of Poland's civil and military elite were killed when their plane, headed to a memorial for the killing of 22,000 Poles killed by Soviet forces in 1940, crashed in a forest outside Smolensk, Russia.
Hopes for a reconciliation with Russia
Russian President Dmitry Medvedev was among the world leaders who braved the cloud of volcanic ash, which had grounded flights across Europe, to fly to Poland for the service. He lit a candle for the Kaczynskis and bowed before a photo of them before taking his seat.
"Tragedies can cause difficult emotions, but very often they bring people near," Medvedev told Polish television before leaving for Russia after the funeral. He added that Russia recognized that it "can undertake serious efforts to bring our countries closer so our nations listen and hear each other better."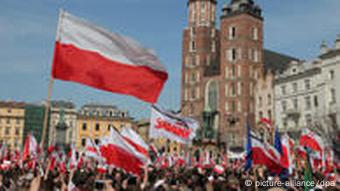 Huge crowds mourned in front of the church and along the funeral procession route
The archbishop of Krakow, Stanislaw Dziwisz, thanked the foreign leaders who came to the service and said he hoped the crash would help end decades of tensions between Russia and Poland.
"The empathy and help that we experienced during these days from our Russian brothers raises hope for raprochement and reconciliation," Dziwinsz said. "These words I direct to the president of Russia."
Among the leaders unable to attend was German Chancellor Angela Merkel, who was forced to divert a flight back to the west coast of the United States to Italy and then travel by armored limousine to get home to Berlin. German President Horst Koehler attended to Mass after arriving to Krakow by helicopter.
US President Barack Obama, French President Nicolas Sarkozy, European Commission Chairman Jose Manuel Barroso and scores of others also had to cancel their attendance due to the ash cloud's travel disruptions.
svs/dpa/AP/AFP/Reuters
Editor: Andreas Illmer