A plan existed to bring the 1968 Olympic Games to Berlin, which was divided by then East and West Germany, a sports historian said Saturday. But the Allies, along with the West German government, would not allow it.
Christopher Young, who also heads German studies at the University of Cambridge, told the online edition of daily newspaper Der Tagesspiegel that the idea was the brainchild of eventual Chancellor Willy Brandt.
"It was somewhat of a crazy idea of (the then-West German Olympic Committee head Willi) Daume and Willy Brandt, the governing mayor of West Berlin at the time," he said. "They wanted the Olympics in both halves of the city, but failed in their dream because of the allies, (the United States, Britain, France and the Soviet Union).
Munich precursor
He said the failed Berlin bid is what led to the Games eventually being awarded to Munich in 1972.
"Munich was second choice, where Brandt's political party friend Hans-Jochen Vogel was mayor," Young said. "Daume first asked him if he sitting down, then told him he wanted the get the Games in Munich. Vogel was inspired. He saw a chance for urban development and of course a chance for his career. Three month later, everything had been approved."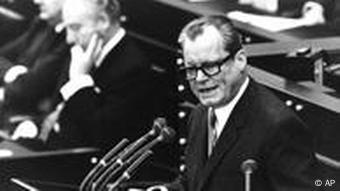 As West Berlin's mayor, Brandt wanted his city to host the Olympics
Young, author of the book "The 1972 Munich Olympics," suggested that German officials stepped up their sports development aid for Africa in order to get the Munich Games.
"At the time the world was divided into East and West, as was the International Olympic Committee," he said. "You had to fight for the votes of the Third World. The South Americans would vote for Madrid, this was clear, so the Germans concentrated on the Africans.
"Unofficial diplomats came to the fore, such as Alfred Ries, the president of football club Werder Bremen and long-time diplomat. Help was promised. Football trainers went to developing countries. Development aid for sport was tripled," he said in the interview.
African campaign
Young said state development aid was also ramped up in Germany's bid to bag the Olympics for Munich.
"The was a trip to Africa by President Heinrich Luebke in which financial agreements were made with Morocco," he told the Tagesspiegel. "Although it's believed this would have happened without the Olympics in the background, it nonetheless did not damage Germany's case.
Author: Darren Mara
Editor: Sean Sinico