Sixty-eight-year-old tenor Placido Domingo is general director of both the Los Angeles Opera and Washington National Opera, but his true passion is being on stage, he confessed Sunday evening at the Echo awards ceremony in Dresden's Semper Opera House.
But he loves working with young people. "I give them experience and get youth in return," dpa news agency quoted him as saying on Sunday.
Domingo, who continues to perform after over four decades in the business, was honored in Dresden with an Echo for his life's work.
In addition to his operatic and stage performances, Domingo has recorded extensively. At one time, seven of his CDs appeared simultaneously on Billboard's top-selling charts of classical and cross-over recordings; eight of his records have sold well over one million copies.
From crossover to contemporary
Star German violinist Anne-Sophie Mutter was crowned Instrumentalist of the Year for her album "Bach meets Gubaidulina."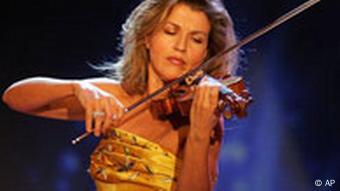 Mutter said she's a fan of contemporary music
Sofia Asgatovna Gubaidulina is a living Russian composer, whose work is marked by unusual combinations of instruments. The CD, which Mutter recorded together with the London Symphony Orchestra and conductor Valery Gergiev, contrasts two violin concertos by Baroque composer JS Bach with Gubaidulina's violin concerto "In tempus praesens," which was premiered in 2007.
"I believe in contemporary music," said Mutter on Sunday in Dresden.
Founded in 1992 by the Deutsche Phono-Akademie - the cultural institute of the Association of the German Music Industry, the Echo has established itself as one of the most prestigious music awards in the world. The awards for pop music were presented in February. For the classical music sector, prizes in 21 categories were presented on Sunday - for the first time in Dresden's Semper Opera.
Some 460 CDs from more than 30 countries had been submitted for consideration. The prize seeks to honor a combination of artistic excellence and economic success.
"Without strong content, there is no economic success, and without economic success is the long-term development of strong content extremely difficult," said Dieter Gorny, president of the Association of the German Music Industry, on Echo's Web site.
A selection of Echo winners:
Singer of the Year: Elina Garanca
Bel Canto Deutsche Grammophon/Universal Music
Singer of the Year: Christian Gerhaher
Robert Schumann, Melancholie
RCA/Sony Music
Instrumentalist of the Year (flute): Emmanuel Pahud
Johann Sebastian Bach, Flute sonatas
EMI Classics/EMI
Instrumentalist of the Year (piano): David Fray
Johann Sebastian Bach, piano concertos
Virgin Classics/EMI
Instrumentalist of the Year (violin): Anne-Sophie Mutter
Bach Meets Gubaidulina
Deutsche Grammophon/Universal Music
Instrumentalist of the Year (harp): Xavier De Maistre
Claude Debussy, Nuit d'Etoiles
RCA/Sony Music
Instrumentalist of the Year (trumpet): Wolfgang Bauer
J.C. Hertel/J.W. Hertel, trumpet concertos
Musikproduktion Dabringhaus und Grimm
Conductor of the Year: Sylvain Cambreling
Olivier Messiaen, works for orchestra
SWR music/hänssler CLASSIC
Orchestra of the Year: Staatskapelle Dresden with conductor Fabio Luisi
Anton Bruckner, Symphony No. 9
Sony Classical/Sony Music
Ensemble of the Year (early music): Il Giardino Armonico
GF Haendel, 12 Concerti Grossi
Decca/Universal
Ensemble of the Year (vocal music): SWR Vocal Ensemble Stuttgart with Marcus Creed
Anton Bruckner, Mass in E Minor, Motets
SWR music/hänssler CLASSIC
Award for the Life Work of an Artist: Placido Domingo
Author: Kate Bowen
Editor: Chuck Penfold