A worried Pistorius looked on in the court room in Pretoria, South Africa, as Judge Thokozile Masipa began reading her verdict, based on over 1,000 pages of witness evidence.
"The state has not proved beyond reasonable doubt that the accused is guilty of premeditated murder," Masipa said, shortly before calling an early lunch around three hours into Thursday's proceedings. "There are just not enough facts to support such a finding."
"There is not doubt that he acted unlawfully when he fired shots at the door," she said, adding that it was irrelevant who was shot behind the door.
Masipa also said that Pistorius was evasive during the trial and pointed out inconsistencies in his own testimony under cross-examination. Pistorius faces charges including murder and manslaughter. He says that he had mistaken his girlfriend Reeva Steenkamp - behind a locked bathroom door - for an intruder.
She concluded her reading of the verdict on Thursday, bringing up the question whether a reasonable person would have fired at someone behind that bathroom door, and whether a reasonable person would have known that a person shot at with such a caliber from behind a door could have been injured, resulting in death.
Judge Masipa will finish reading her verdict tomorrow at 9:30 a.m. local time.
Reported argument can't 'assist this court'
Referring to evidence presented in court that there may have been an argument between Pistorius and Steenkamp an hour before the shooting, the judge said the court would refrain from making inferences on the relationship between the accused and the deceased, instead relying on scientific evidence.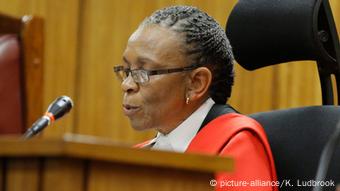 Judge Masipa read out detailed findings from the long-running trial
"Normal relationships are dynamic and unpredictable most of the time, while human beings are fickle," Masipa said. "None of the evidence of a loving relationship, or a relationship turned sour, can assist this court."
She also pointed out that some of the witness testimony had been flawed, but that that was to be expected from a case that relied on auditory evidence - possible screams, gunshots or other violence heard by witnesses.
'Conscious' decision to shoot
Reading the defense to the court, Judge Masipa recalled the defense's testimony.
Pistorius had said in his testimony that he was not trying to fire fatal shots. Had he wanted to shoot any intruder, he said, he would have aimed higher, at chest height. The defense argued Pistorius did not intentionally discharge his firearm at the toilet door.
"Before thinking, I fired out of fear," he stated in court. "I was not meaning to shoot at anyone."
Judge Masipa said that he had made a conscious decision on the early morning of February 14. She said Pistorius had intentionally discharged his firearm in the belief that an intruder was coming to attack him.
She said it could not have been an act of "punitive" self-defense, as the defense claimed, had he had no intention to shoot anyone.
She also clarified questions of his state of mind at the time of the shooting: "This court is of the opinion that the accused could distinguish between right and wrong" at the time of the shooting and that a psychological evaluation supported this.
Valentine's Day death
The double-amputee Olympic sprinter shot his 29-year-old girlfriend, law-graduate and model Reeva Steenkamp, through a bathroom door in his home in Pretoria, South Africa, on February 14 last year.
His trial incorporated 41 days in court at the North Gauteng High Court in Pretoria, focusing on his motive for firing four shots into the bathroom door.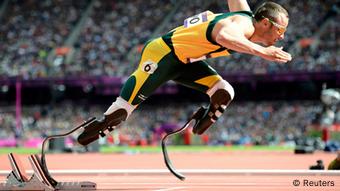 Pistorius, a multiple Paralympic medalist, also raced in the 2012 London Olympics
The 27-year-old maintains he believed there was an intruder in the bathroom.
Sixty-six-year-old Judge Thokozile Masipa - one of only two black women to rise to the bench since the ending of Apartheid in South Africa - ordered a 30-day psychiatric evaluation for Pistorius in May after a psychiatrist said he suffered from an anxiety disorder. Whether or not his disability played a role - for example, making him more fearful - was also debated.
Heated trial
The trial was spread over six months and was not attended by a jury. Testimony from around 35 witnesses was presented.
The prosecution described Pistorius as a gun-crazed and hot-tempered man who faces three other weapons-related charges. In one instance, he shot a watermelon with a high-caliber pistol and is said to have joyfully exclaimed that the mess looked like brains.
Oscar Pistorius had become a hero to many, a symbol of triumph over adversity. Despite having his legs amputated as a baby, he won a total of six Paralympic gold medals in his career running on prosthetics - ultimately making the semi-finals of the 400 meters at the London Olympics in 2012.
That year, he was described by Time Magazine as "the definition of global inspiration" and ranked among the world's top 100 influential people.
sb/msh (Reuters, dpa)