The 52-year-old musician won 356 votes in the race for one of the five selectmen seats in the coastal town, and is expected to attend his first official meeting next week, Lincolnville town clerk Karen Secotte told DW on Friday.
Fishman was born in Philadelphia, grew up in New York, and studied in Vermont, where he met other founding members of jam band Phish and started performing in 1983. He has lived in Lincolnville for the last ten years with his wife Briar, who serves on the town's school board.
Last year, Fishman actively endorsed Vermont Senator Bernie Sanders in the primary race against Hillary Clinton, traveling around the country and performing for his supporters. The musician told the Maine Free Press that he was inspired by the left-leaning Sanders and his message to get involved in political life.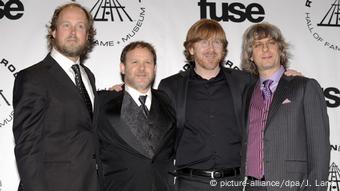 Fishman appearing alongside with his bandmates Page McConnell, Trey Anastasio, and Mike Gordon at the Hall of Fame Induction ceremony in 2010
"Bernie was saying, 'Look at all of you people who got on the Sanders campaign and cared about these issues, you should run for your local offices, your school boards, your select boards and committees,'" said Fishman.
Opposite of 'ego'
Responding to this appeal, Fishman ran for selectman in the non-partisan race in the 2,164-people strong Lincolnville. He won enough votes for one of the seats at the Tuesday poll, with the other one going to the aspiring filmmaker Josh Gerritsen, who was also supported Sanders during the primary race.
"It's not an ego thing or anything like that," Fishman told the Free Press of his run for office. "It's kind of the opposite. I've done really well in my line of work, I've had a lot of success and I love my job. And I guess I could sit on my butt somewhere and not be engaged, but we do have a personal stake in the well-being of the town."
Most New England towns have a board of selectmen, with executive power to decide on issues of local importance.
He added he was preparing for the job by attending meetings in order to learn about local issues facing the community.
"If I'm going to do it, I want to do a good job. I'm going to be engaged, and I have no interest in doing it half-assed," he said.