Some 1,500 Philippine women on Sunday nursed their babies publicly in a stadium in the capital, Manila, as part of a government campaign to promote breastfeeding as a way of combating child illness and death.
Sixty-one other mass breastfeeding events took place in other Philippine cities over the weekend, according to the organizer, Rose Padua.
The events took place as part of World Breastfeeding Week from 1 to 7 August, 2018, which is coordinated by a number of international health organizations to encourage women the world over to bring their babies up on mothers' milk from the first hours after being born.
Read more: Breastfeeding rates too low in developed countries, UNICEF says
Higher risk for non-breastfed children
The United Nations, whose children's agency UNICEF is one of the groups behind the week, says that an estimated 78 million newborns are at a higher risk of death each year because they are not breastfed right after birth.
Together with the World Health Organization (WHO), it has urged governments to provide better support to mothers and health workers after birth and to restrict the marketing of infant formula, which can be harmful to young children.
Read more: Trump lashes out at NYT over report that US opposed breastfeeding resolution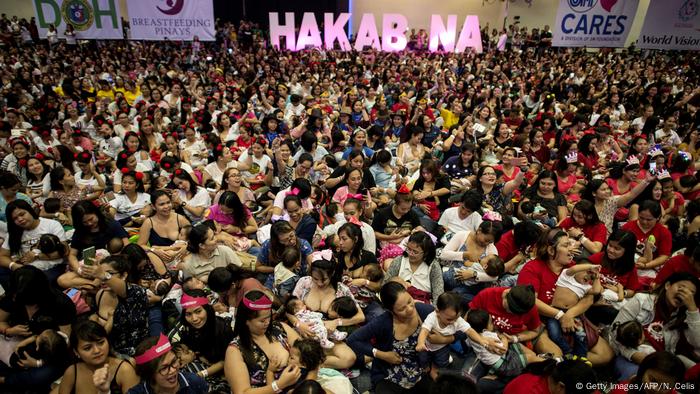 The nursing took place to the beat of dance music
Starting early
Health experts recommend giving children breast milk from birth to the age of six months, with studies showing that the practice improves babies' immune systems, provides critical nutrients and promotes better growth and development.
Delaying breastfeeding between two and 23 hours after birth increases the risk of death by a third, studies say.
According to WHO data, 27 children out of every thousand died before the age of five in the Philippines in 2016.
World Breastfeeding Week was founded in 1992 by the World Alliance for Breastfeeding Action (WABA). It is now celebrated in more than 170 countries.
Every evening at 1830 UTC, DW's editors send out a selection of the day's hard news and quality feature journalism. You can sign up to receive it directly here.