Peruvian President Ollanta Humala (seen above, left) on Thursday named both a new prime minister and a new foreign minister in a Cabinet shakeup aimed at ending a political crisis triggered by spying allegations leveled at the previous premier, whom Congress threw out of office on Monday.
The 56-year-old Pedro Cateriano (above, right) has been defense minister for almost three years, while the president's choice for foreign minister, Ana Maria Sanchez, has just been named ambassador to France. Both nominees still need the approval of Congress, in which Humala does not have a majority.
If they are rejected, Humala can dissolve Congress and call legislative elections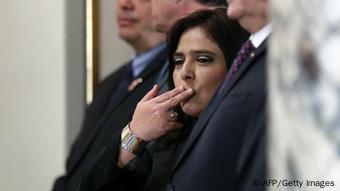 Jara was labor minister before becoming prime minister
The former prime minister, Ana Jara, was deposed in a no-confidence vote after media reported that the national intelligence agency, DINI, had spied not only on her opponents, but on journalists, business leaders and thousands of normal citizens.
Jara, 46, told Congress that the two previous governments had also presided over the spying, and that she had ordered an investigation into it.
Her plea did not move opposition parties and she was deposed with a vote of 72-42.
Surveys show that Humala's popularity is falling amid a series of scandals, including an investigation into money-laundering allegedly conducted by his wife and former President Alejandro Toledo.
Peru saw an economic slowdown last year that is attributed to a downturn in the mining sector. The country is the world's fifth largest gold producer.
tj/sms (AFP, Reuters)