Over the last couple of years, Mariano Rajoy and his conservative People's Party (Partido Popular, PP) have shown extraordinary perseverance and defied any allegations. "For years on end, they did not accept responsibility for all those cases of corruption which came to light.
"This can't be the solution," says Wilhelm Hofmeister, Madrid bureau chief of the Konrad Adenauer foundation (KAS). The PP kept holding on to power, even when a number of party members were arrested, put on trial and handed a sentence, as in the case of former economy minister and Managing Director of the IMF, Rodrigo Rato.
The prime minister did not even step down on May 24 when the former PP treasurer, Luis Barcenas, was sentenced in the wake of the so-called "Gurtel" trial, along with a number of Madrid-based regional and local politicians. The trial dealt with corruption, embezzlement, money laundering and unlawful enrichment.
For the first time, the judges accused the PP of illegal party funding, indicating that the party benefited from criminal activities. At the time, Rajoy would only react by repeating the same assertion in front of rolling cameras: "No member of my government is under suspicion – we don't have anything to do with it."
Read more: On tour with Spain's anti-corruption bus
Sanchez grabbed historic opportunity
At the ballot box, Socialist leader Pedro Sanchez (pictured above) has lost out repeatedly against PP candidates. Critics don't attribute a great deal of intelligence to the young politician, but they admit he is a fighter. Sanchez realized that he had a historic opportunity to become Spain's new prime minister in next to no time.
For the first time since the democratic constitution was established after the end of the Franco dictatorship 40 years ago, one of Spain's political parties has come to power through a no-confidence vote.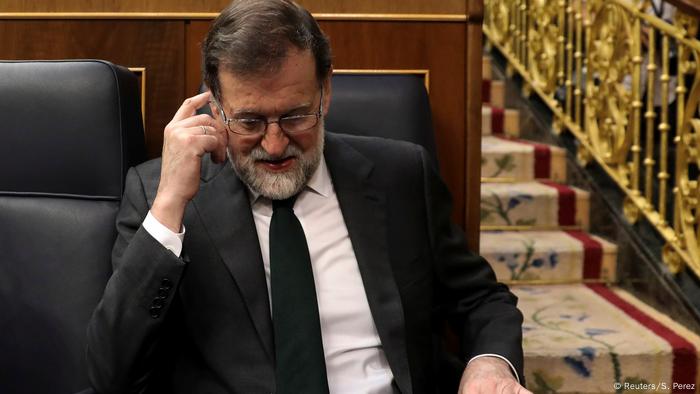 Ousted by no-confidence vote: Prime Minister Mariano Rajoy
On Friday morning, 180 MPs of the Partido Socialista Obrero Espanol, or PSOE voted for Sanchezto become the new prime minister; 169 lawmakers voted against him, meaning he did achieve an absolute majority, but only because he promised to retain the budget plan drafted by Rajoy's minority government that was only narrowly passed by parliament, and without the Socialists' consent.
Rajoy: Economic success, political problems
Following his defeat, Rajoy has now been left empty-handed. Granted, after he came into power in 2011 he did manage to maneuver Spain out of the severe financial crisis, which had affected Spain due to – among other things – widespread corruption in savings banks and in the construction sector.
But whereas the economy continued to improve, politically the PP has been in a downward spiral in the past couple of years. Increasingly, corruption cases related to the country's property boom found their way into the media and into courtrooms. In the 2015 election, the PP was unable to achieve a majority; the party refused to set up a coalition and formed a minority government, triggering fresh elections in 2016; the result, however, did not change the balance of power.
The Catalonia factor
In addition, Catalonia's independence movement turned out to be a real danger to Spain's unity. Until now, Rajoy had been refusing to enter negotiations with the new government in Barcelona. During the no-confidence vote, Catalan separatists voted in favor of Socialist Sanchez. With him taking office, they hope there'll be new impetus for a reform of the Spanish constitution. They're also hopeful that the change in leadership will lead to an end of the suspension of Catalonia's autonomy and that the economic situation will improve as a result.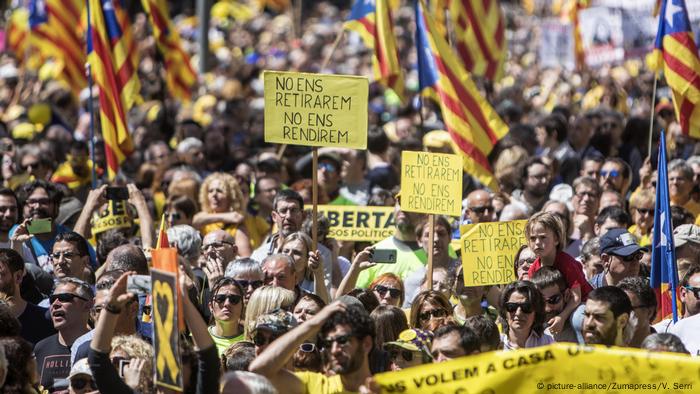 Independence movement: Protesters in Barcelona holding banners and waving Catalan flags
Another political force, however, will embark on a collision course with Sanchez: the liberal Ciudadanos (Citizens) party is the strongest party in Catalonia and now, according to opinion polls, across all of Spain. It is one of the reasons why, during the no-confidence vote, they did not vote for Sanchez: "We wanted Rajoy to step down, and we wanted new elections, but we did not want an accession to power like this, by means of a no-confidence motion," party leader Albert Rivera said during the debate in the Spanish parliament.
Resignations uncommon in Spain
Rajoy has often been labeled as stubborn, and this latest incident seems to prove the point. "In Spain, a resignation is considered to be an admission of guilt. Therefore, no one is prepared to do it," says engineer Fernando Rodriguez, who lives in Madrid. Like many other Spaniards, he's full of admiration for German politicians, who often step down when they merely face allegations. "Because it's more dignified and because they want to protect their parties from damage. Nobody does that here."
Read more: German prosecutors file extradition request for Puigdemont
Even Sanchez mentioned Germany during his speech before parliament. "Mr Rajoy, politicians there step down when they are being accused of illegal activities." The conservative PP countered that "Spain needs stability, and therefore a new government is not a good idea, and the same goes for a new prime minister," said Rafael Hernando, leader of the PP's parliamentary group, rejecting the no-confidence vote during his speech.
Only one politician has ever chosen to step down - Socialist Jose Luis Zapatero - who was also a highly controversial figure. He retreated when public opinion turned more and more against him, because of Spain's difficult economic situation. In 2011, he called new elections and sent his deputy, Alfredo Perez Rubalcaba, into the fray. Perez Rubalcaba lost out to Rajoy, who achieved an absolute majority also because the corruption cases which have now been brought before the courts were not known at the time, and because parties like Ciudadanos and the left-wing populist Podemos did not yet exist, or lacked the strength they have today.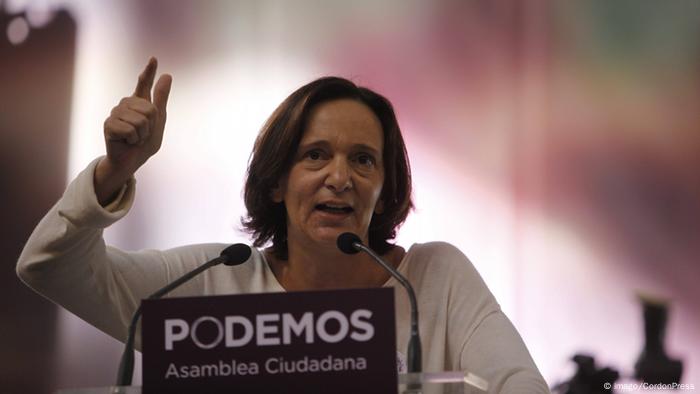 Podemos' Carolina Bescansa: 'We voted Rajoy out of office'
Spain needs a new beginning
Lawyer Georg Abegg, who lives in Spain, calls for the PP and the whole country to completely renew itself: "Up to this point, many were afraid of a real new beginning." Now, Podemos sees a golden opportunity. "Today is a historic moment for Spain. It is possible to have a democratic government," said one of the party's founders, Carolina Bescansa.
Her party, however, which was formed in 2014 when the people's frustration with corruption and budget cuts came to the fore, did not vote for Sanchez as prime minister. Bescansa stressed that "we voted Rajoy out of office." After all, the Socialists, too, have to stand trial after various corruption allegations.
The Basque conservative party PNV is now in a position to tip the scales. Its spokesman, Aitor Esteban, addressed a warning to the new prime minister: "We expect from you that you are aware of your enormous responsibility and that you keep your promises."