Australia's former interior minister, Peter Dutton, on Wednesday said he was sounding out support within the ruling Liberal Party with a view to renewing his leadership challenge against Prime Minister Malcolm Turnbull. Dutton resigned his ministerial post after losing a party leadership vote on Tuesday.
"I am not going to beat around the bush on that, I am speaking to colleagues," Dutton told Melbourne radio station 3AW. "You don't go into a ballot believing you're going to lose, and if I believe that a majority of colleagues support me, then I would consider my position."
Turnbull, whose Liberal Party is the senior partner in the coalition government, won a party vote by 48 to 35 on Tuesday.
Turnbull's opponents argued that the PM intentionally called the ballot before Dutton had time to lobby colleagues for support.
Read more: Australian Interior Minister Dutton rejects asylum-seeker abuse claims
Rebel Liberal Party MPs appeared to support a second leadership contest. One government senator, Jim Molan, said he had signed a petition on Wednesday requesting the prime minister allow a second ballot to go ahead.
Such a petition would require 43 signatures to force a ballot. Dutton's supporters are in a race against time to secure the signatures before parliament breaks for two weeks. Should they fail, the next possible date after that for a leadership ballot would be September 11, when MPs return to parliament.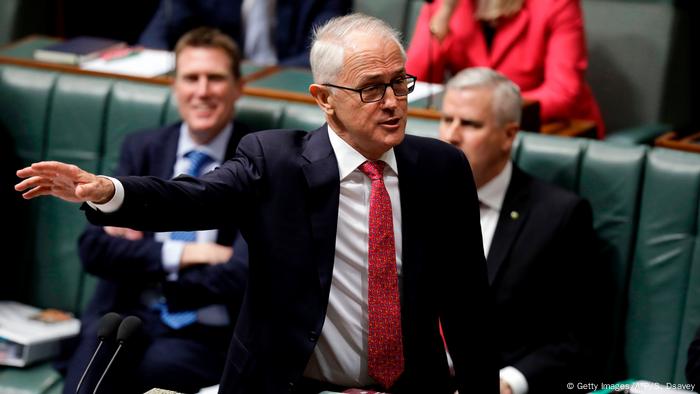 Prime Minister Malcolm Turnbull in parliament in Canberra this week
Turnbull clings on
Turnbull, who himself came to power in a party coup in September 2015, taking over from Tony Abbott, on Wednesday called on his government to unite behind him.
"The iron laws of arithmetic confirmed my leadership of the Liberal Party," he told reporters at a joint news conference with Treasurer Scott Morrison and Finance Minister Mathias Cormann.
Both ministers declared their support for Turnbull.
Darren Chester, a minister in the National Party of Australia, the junior coalition partner, has threatened to withdraw his party's support for the government if Turnbull is deposed. Given that the coalition has a one-seat majority in the lower house of parliament, that move could force an early election.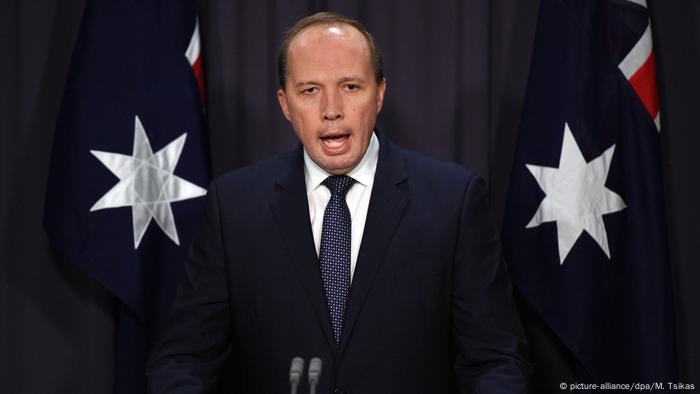 Ex-Interior Minister Peter Dutton has a hard-line reputation on immigration
A credibility gap?
Dutton's eligibility to be an MP at all came under scrutiny on Wednesday. Opposition MPs raised questions in parliament about Dutton receiving legal advice concerning his family's ownership of two childcare centers that have received federal funding.
Attorney General Christian Porter said on Wednesday that the government would now seek its own legal advice as to whether this breaches a constitutional ban on MPs having a financial interest in agreements with public services.
If it finds that Dutton breached the constitution, the High Court could disqualify him as an MP.
Dutton is also a hard-line conservative who made his reputation overseeing a harsh immigration policy and is unpopular with the moderate voters whom Turnbull has been courting.
A string of other ministers who had supported Dutton's initial challenge also offered their resignations to the prime minister, but Turnbull said that he had only accepted Dutton's resignation.
jbh/msh (AP, Reuters)
Each evening at 1830 UTC, DW's editors send out a selection of the day's hard news and quality feature journalism. You can sign up to receive it directly here.