France's presidential Elysée Palace hailed Merkel's remarks in an interview with the Frankfurter Allgemeinen Sonntagszeitung (FAS) weekly newspaper as a move "toward the French view" on ways to strengthen the eurozone and European Union.
Merkel said Europe needed "quicker economic convergence" but stopped short of Macron's vision of a major investment budget, saying, in euros, it should be "at the lower end of the double-digit billions" and only phased in gradually.
It was, however, said Paris, the "first answer" from Merkel since last September when Macron outlined his plan to Sorbonne University students, including a tax to fund a stronger eurozone budget, and closer environmental and military measures.
"This is a positive move which shows the commitment to Europe of the chancellor and her government," said the Elysée Palace.
Macron's September vision initially drew cautionary reactions in Germany among parties that ended up forming Merkel's fourth coalition cabinet in early March and warnings from smaller European nations that such planning required an "inclusive format."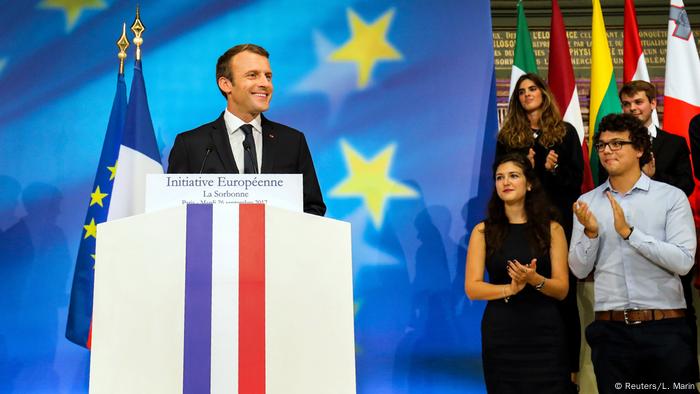 September 2017: Macron outlines his EU reform plan to Sorbonne students
When receiving his European Charlemagne peace prize in Aachen last month, Macron had expressed impatience over delays in forming the Berlin coalition and Germany's "fetish" for budget and trade surpluses.
Nine months after his Sorbonne speech, Macron will meet Merkel – accompanied by their top ministers - at Meseberg palace outside Berlin on June 19 to finalize joint policy on EU reform.
European leaders will then meet at a summit on and June 28 to 29 in Brussels, just before Austria, led by Chancellor Sebastian Kurz's conservatives and the EU-skeptic far-right Freedom Party, assumes the EU's six-month rotating presidency from Bulgaria in July.
Crises roiling Europe included a Euroskeptic government assuming government in EU-founding member Italy, Spain's change of government, and rocky trans-Atlantic relations exemplified by US tariffs on steel and aluminum, and President Donald Trump's exit from the 2015 Iran nuclear deal, in which Germany had a major role.
ipj/ng (AFP, Reuters, dpa)