Pakistani President Asif Ali Zardari arrived in India on Sunday on what is the first trip by a Pakistani head of state since 2005.
Zardari's trip has been described as "private." He is to lunch with Indian Prime Minister Manmohan Singh before visiting a Muslim shrine 350 kilometers (220 miles) from New Delhi.
Zardari and Singh were expected to hold private talks before the lunch. Diplomatic sources said no statements were likely to be made after the meeting.
Fraught relations
Zardari's visit to India is seen as being of great diplomatic significance in view of the fragile relations between the two nuclear-armed neighbors.
India continues to call on Pakistan to prosecute the Islamist militants alleged to be behind the 2008 attacks in Mumbai, which left 166 people dead.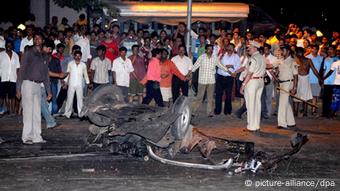 Pakistani militants are suspected of carrying out the 2008 attacks in Mumbai
The founder of the Laskar-e-Taiba group, Hafiz Saeed, still lives openly in Pakistan, where the government says there is insufficient evidence to prosecute him. Saeed has a $10-million (7.6-billion-euro) bounty on his head offered by the US government.
"Religious trip"
Speaking in Lahore on Saturday ahead of his trip, Zardari told reporters that his position on Saeed was "not different from my government."
"My visit to India is of a religious nature and I do not think Manhohan Singh will make me sit (and discuss) only this issue," he added.
New Delhi broke off peace talks with Islamabad in response to the attacks, but both sides have since returned to the negotiating table.
The two countries are also stuck in an ongoing row about the disputed region of Kashmir, which both India and Pakistan claim as their own. They have fought three wars over the disputed territory since 1947.
Analysts say little progress can be expected on the sensitive issues burdening Indian-Pakistani relations during Zardari's one-day trip, but still see it as a sign of easing tension.
Avalanche disaster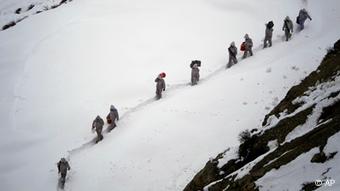 Nobody is thought to have survived Saturday's avalanche
Meanwhile, back home in Pakistan, troops were searching for possible survivors of an avalanche near the Siachen glacier on the border to India in the north of Kashmir. The avalanche hit an army camp on Saturday, burying up to 135 people, mostly soldiers.
The inhospitable region became the site of fierce fighting between the two countries in 1987, and has been called the highest battlefield of the world.
Both countries maintain a large military presence on the glacier.
tj/acb (AFP, dpa)