Pakistani President Mamnoon Hussain was among the officials to criticize Valentine's Day, saying it constituted an "anti-Islamic tradition."
"We should avoid the Valentine's Day celebrations because it is Western," the president said in a speech to a crowd of students, adding that the imported custom could undermine the country's culture.
Hussain, who holds the largely ceremonial role of head of state, urged the students to concentrate on their studies instead.
Many couples in the country, most of them young and some unmarried, have embraced Valentine traditions common in the West, such as giving presents of flowers, cards and chocolates to loved ones. Flower vendors have reported booming sales again this year.
However, the interior ministry denied reports that Valentine's celebrations had been banned in the capital, Islamabad.
"There is not truth in these reports. We cannot even think of such a ban in the capital," said spokesman Sarfaraz Hussain.
Local bans
Authorities elsewhere in the country did, however, prohibit the sale of items marking the day of love.
In Kohat district, some 200 kilometers (124 miles) west of Islamabad, a local council chairman, or nazim, said the tradition was "unnecessary" in Pakistani culture.
"There is no need to designate a special day where people give cards, chocolates and gifts to each other," Maulana Niaz Mohammad was quoted by the "Express Tribune" as saying.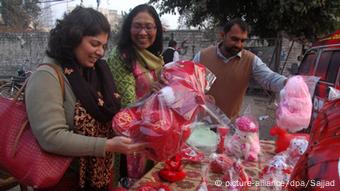 Most Pakistanis seem unfazed by official admonitions
Another newspaper, "Dawn," cited the nazim as saying that police in the district had been charged with inspecting markets to make sure no one had Valentine's items for sale. However, the "Express Tribune" reported that police were not planning to enforce the ban.
"The order has been discarded, as it is illegal and violates basic human rights," a police official told the paper, speaking on condition of anonymity.
'Festival of obscenity'
Some 40 kilometers further north, in Peshawar, the capital of Khyber-Pakhtunkhwa province, local authorities also passed a resolution to ban Valentine's Day celebrations, although it was unclear whether the ban would be enforceable.
"There is no place in our culture and in our civilization for such an unnecessary and rude day, which aims to spread vulgarity and indecency amongst the youth," said the statement, which was presented by a member of the large Islamist Jamaat-e-Islami party.
A conservative Urdu-language paper also ran an advertisement slamming the day as a "festival of obscenity."
In the past, religious fundamentalists in the country have tried to disrupt groups of young people celebrating Valentine's Day, which has roots as a Christian holiday.
tj/rc (dpa, Reuters, AFP)